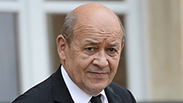 French Minister of Defense
Photo: AFP
Con artists operating in Israel swindle French companies out of millions
France asks Israel to help locate and detain suspects who made an exact replica of the French defense minister's office, used makeup to pose as the minister himself before soliciting millions of euros for aid in fictitious 'covert operations.'
Police and security services have opened an extensive investigation into allegations that a gang of Israeli thieves impersonated French Minister of Defense Jean-Yves Le Drian to defraud French private security companies of large sums of money for supposed covert security operations conducted by the French government.
No arrests have been reported thus far but the investigation has revealed that the thieves began operating their scam several months ago. The gang apparently set up an exact replica of Le Drian's office at an unknown location in Israel, including matching furniture, the flag of the Republic, pictures of the president of France and the other characteristic features of his office.
One suspect even disguised himself as Le Drian, possibly with the services of a makeup expert.
The suspect then proceeded to pose as Le Drian and hold video conferences with several French security companies, asking for urgent financial assistance in conducting "security operations" such as hostage rescues from ISIS, arms acquisitions and other covert operations.
Throughout the talks, the impostor asked the representatives of the companies to keep their contacts secret, ostensibly in order to blur the fingerprints of the French government in the operations carried out with the financial aid.
The scheme is especially bold considering that the companies that fell prey to the fraudulent plot are also manned by people with experience in security. However, they nonetheless swallowed the bait and transferred tens of millions of euro to the con men.
After attempting to track the funds, investigators discovered a sophisticated network of banking operations stretching from Eastern Europe to China; banking networks that the suspects certainly knew would be reluctant to cooperate with Western law enforcement agencies in the event of fraud or an investigation.
By the time French authorities were alerted to what was happening and attempted to track the criminals, the gang had utilized electronic security measures to conceal their location and identities.
Following a break which led French authorities to discover that the gang was operating in Israel, France submitted an official request to Israeli authorities seeking their assistance in locating and detaining the suspects.
Following the request, a special team has been established within the Israel Police and the Lahav 433 International Crimes unit.
A source close to the investigation said, "This is an extremely sensitive case. There is fraud all over the world and in Israel, but when it threatens the national security of a friendly nation, the line has been crossed."
Israeli officials have avoided publically addressing the matter, possibly in an attempt to avoid public embarrassment to Israel-French relations. French officials are reportedly seeking extradition of the suspects upon their detention.
(Translated and edited by Fred Goldberg)