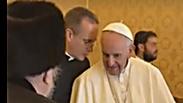 A group of ultra-Orthodox Jews met with Pope Francis on Monday in Vatican City. They were accompanied by a Haredi band from New York who performed, and the pontiff himself moved to the beat, though not all Haredim were pleased with the performance.

The group, led by the Chief Rabbi of Galicia, Edgar Gluck, expressed to Francis their concern over the destruction of Jewish cemeteries throughout Europe, the Yeshiva World News website reported. One of the participants in the meeting, Gary Schlesinger, said on his Facebook page that the group surprised the pope when they performed the musical version of a psalm for him.

Francis devoted 45 minutes to the New York group from New York, where Gluck lives part time. The chief rabbi was accompanied by his son, Rabbi Zvi Gluck, who heads an organization that helps victims of abuse and addiction in the US Haredi community in the United States.
'Meeting with the forefather of impurity'
In a video that went up on Facebook and soon became viral, the members of the ultra-Orthodox delegation are seen alongside the pope as soon as members of the Hassidic Pompadita band perform the verse from Psalms: "Long years shall satiate him."

On social media and ultra-Orthodox sites, the performance drew mixed reactions, often critical. The Chabad-Lubavitch website Chabad Info was quick to condemn the incident and renounce the Chabad-affiliated rabbi.

The event was described in the headline as "a meeting with the forefather of impurity" and "a horrifying incident in a matter of idolatry."

In the article itself, they wrote, "Today a video clip was published showing a shocking incident, with a man who is considered 'influential' and a (Chabad) 'emissary' meeting with the father of the impurity, and he was not satisfied until he danced before him (to) a verse from Psalms that speaks about the king messiah!"

About six months ago, the group accompanied a delegation of Chabad Hassidim who travelled to Bahrain on the first night of Hanukkah.

(Translated and edited by J. Herzog)