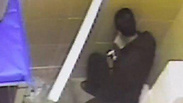 Barghouti breaking his strike
Photo: Prison Services
Palestinians call for boycott of Pizza Hut over post mocking Barghouti
After the Israeli branch of the pizza chain poked fun at the Palestinian terrorist for sneaking candy bars into his cell, despite leading a hunger strike, Palestinians called for a boycott; company deletes post and international management issues apology.
Palestinians are calling for a boycott of Pizza Hut following a Facebook post by the chain's Israeli branch that poked fun at terrorist Marwan Barghouti for breaking his hunger strike by secretly sneaking candy bars in his cell.

The post read, "Barghouti, if you're going to end your strike, wouldn't you prefer pizza?"

The post was quickly removed from the company's page, but still managed to cause a firestorm among Palestinians and supporters on social media. On Twitter, a hashtag spread calling for the boycott of the international company.

Anger over the post even managed to rouse an apology from Pizza Hut.

"Pizza Hut International apologizes for any offense caused by a recent post on Pizza Hut Israel's Facebook page. It was completely inappropriate and does not reflect the values of our brand. The local franchisee in the country removed it immediately and the relationship with the agency that posted it was terminated. We truly regret any hurt this may have caused."

In response to the growing controversy, Pizza Hut Israel issued a response, saying, "This was meant to be a humorous post for Pizza Hut Israel's delivery service, which was removed at the request of international management."