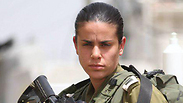 Maj. Dana Ben-Ezra
Photo: Gadi Kabalo
A trailblazer for women in the army: 'IDF chief? Maybe when I'm 47'
Maj. Dana Ben Ezra, who was recently appointed the deputy commander of a co-ed battalion in the Jordan Valley, is the woman with the most senior combat role in the IDF. In an interview, she talks about her best friend who was murdered in a terror attack, explains why she's not worried by Rabbi Levinstein's disparaging comments on women in the IDF, and asserts that women should take the reins in all fields.
At the end of a fascinating two-hour tour of Israel's northern border, where she serves as an operations officer in the 869th Battalion, Maj. Dana Ben-Ezra takes me to a place that holds a special meaning to her—the IDF operations room in Mitzpe Adi. Despite freezing cold temperatures outside, the atmosphere inside the operation room's thick concrete walls is warm, homey and mostly professional. There's a poster on one of the walls with scary faces: Those are wanted suspects the girls are supposed to know and recognize should any of them appear on one of the screens attempting to come near the border fence.

This room is where she began her military career as an IDF field observer and has since rose in the ranks to become the IDF's first infantry officer or, in other words: The IDF's first female combat officer. When Ben-Ezra, a newly-appointed deputy battalion commander, stands and looks at the field observers, it takes her back to the young soldier she once was, if only for a moment.

"The conditions I had as an observer were substandard compared to what they have today," she says with a smile. "Back in my time, there was no Hamas to contend with, only Fatah. Even then the enemy was not stupid, but today they're super sophisticated, with advanced technology."

When you visit the operations room, do you still glance at the screens?

"You can't change it; a field observer always looks at the screens. Sometimes I come in here with senior commanders who look and say: 'Slow down, you're scanning too fast'—and they're wrong. An observer is used to scanning and knows what to look for. It seems fast to them because they're not used to it."

But despite her love for the observers and the soldiers of the battalion, Ben-Ezra is leaving them this month and moving to the Jordan Valley, the only area she has yet to serve in. She has been appointed the deputy commander of the 47th Battalion, the IDF's new co-ed battalion, whose soldiers have just enlisted and will one day take over the border's security duties from the reservists and conscript soldiers currently holding the line.

"It's basically a whole area of peace and cooperation with the Jordanian army," Ben-Ezra says, but immediately clarifies her statement: "Well, we also have peace with Egypt, but ISIS is all over Sinai. Meaning, peace doesn't mean there won't be attempts to infiltrate and carry out terror attacks. This isn't summer camp; we're going to be a combat battalion carrying out missions."
The IDF comes before soccer
Even in civilian clothes, there's no mistake: The authoritative way she talks and her tough appearance make her a commander even without her uniform.
She was born 32 years ago in Kibbutz Yagur and moved with her family to Acre when she was two years old. Her mother retired from the IDF after 26 years of service as a logistics NCO in the 300th Division, and her father, a former paratrooper, is a manager at Haifa Chemicals. She has two sisters, twins, who are four years older than her.
And, from the ages of 5-18, Ben-Ezra was very involved in women's soccer in Israel, even playing for the national team. And even though she could have been recognized as an athlete by the army and continue her training routine, she chose to retire her soccer uniform and replace them with the olive green IDF uniform.
"It was obvious to me that even if I were Messi, I had priorities and the army came before anything else," she says without even whiff of disappointment.
Black and white
When she enlisted in the IDF in January 2003, she was sent to a course for field observers in the Combat Intelligence Collection Corps, after which she was placed in the 414th Battalion stationed in Netzarim.
Her friend from the course, who later became her roommate, was a young sergeant named Sarit Shneor Senior. The two became fast friends and did everything two 19-year-old women do together: have fun, share secrets, and make plans for the future such as trying out for officers' training course.
But then things changed on the evening of October 24, 2003. "We were at in the operations room, talking and talking," Ben-Ezra recalls. "And then I told Sarit: 'I'm dying of thirst, my throat is dry. Go up to the room and get us something to drink.'"
That innocuous request ended in a disaster: A terrorist who infiltrated the base went on a killing spree in the soldiers' dorms, throwing grenades and firing his gun indiscriminately. Three soldiers were killed in that attack: Sgt. Adi Osman, Sgt. Alon Avrahami, and Sarit.
Ben-Ezra, who remained at her post in the operations room, directed the forces to the escaping terrorist, aiding in his quick elimination.
"This is a situation I don't wish upon my enemies," she says, her voice hoarse despite the many years that have passed since. "Sarit should not have been there. It has been 13 years and it's still difficult for me to look her parents in the eye. At the end of the day, it was me who told Sarit to go to the room—and that's why they won't see their daughter anymore.
"You don't really get over something like that. It's a scar you learn to live with; a real wakeup call that changed me completely, for better and for worse. For example, I no longer keep things bottled up. If I have something to say, I'd say it now, mostly to the people I love, because you don't know if tomorrow will ever come. Also, if I can do something, I do it myself: from making a cup of coffee to preparing briefings, or going out to the field with my troops. Sometimes it's not the right thing to do. It puts a lot of work on me.
"The entire incident made me see things in extreme ways. When a soldier tells me: 'It's difficult for me,' I look at her and say: 'This is difficult?' My officers know that if you tell me something is 'urgent,' it needs to be a matter of life and death. There is a lot of black and white in my life. The middle part has diminished."
Despite the traumatic experience, in January 2004, Ben-Ezra set out to realize the dream she enlisted in the army for. "In our house, no one ever had to ask me 'What are you going to do when you grow up?'" she clarifies. "They knew I wanted to be an officer."
But the highly-motivated Sgt. Ben-Ezra received another blow. "The doctor would not medically clear me for the course because of knee problems from my days playing soccer. It was a shock," she says, smiling. "I'll never forget it. When I was sent home, it was as if the world had ended. Turn off the light, it's time to go. You prepare your entire life to take a specific path, and then you're told 'no.' You feel a little lost."
Everyone wanted to pitch in
The disappointed Ben-Ezra returned to her battalion to command new recruits, as well as teach and train field observers, before being released in January 2005. "I applied to the Shin Bet, but at the same time I flew to the Far East for a few months' trip," she recalls.
She returned home in October 2006 to attend her friend's memorial service. It was right after the end of the Second Lebanon War.
"I was sitting in my parents' living room with my feet up on the coffee table, still in India's time zone, and they were talking about the Winograd Commission on TV. I started criticizing everyone: those did this, and they did that, and what a disgrace—no one was immune, I fired in all directions. My mom looked at me, at first in silence, and then said: 'It's so easy to sit on the couch at home, isn't it Dana? Thank God, someone is cooking for you, taking care of you, doing your laundry—and you're criticizing the whole world and then some. So listen to me carefully: If you think something isn't right, get up and change it. Otherwise, I don't want to hear another word.' Out of sheer embarrassment, because I realized she was right, I got up and went to my room.
"Three days later, at Sarit's memorial, someone who served in the army with me told me: 'Come on, Dana, come back. We have an opening.' I asked him if it had the option to take the officers' training course, because not every position has it. He told me there is, and 18 days later I was back in uniform. A little over a year later, I was in the officers' training course."
What about your knees?
"The medical committee didn't ask about it. 'Are you allergic to anything? Any medical issues? No. Okay, you're clear.'"
After the course, Ben-Ezra returned to the Combat Intelligence Collection Corps's school, this time as a deputy company commander.
Why didn't you go for pilots' course?
"Let me tell you a story. Before the army, I did trials for the navy. I passed and told them: Thanks, but no thanks. I love the sea, I surf, but I couldn't see my military service done on the water. I only wanted to see if I could deal with the level of difficulty. When I returned to the army, I didn't want to go to pilots' course or even to Caracal. Combat Intelligence Collection is where I came from, it's what I know how to do. I love the profession and whole-heartedly believe in it. This is a life-saving role, every day and every hour."
Somehow, you've managed to avoid all of the problematic security events: During the Gaza Disengagement and the Second Lebanon War you were traveling, during the mess ups of Protective Edge you were studying.
"Listen, I was in (operations) Cast Lead and Pillar of Defense. I was in Gaza more than many other combat soldiers. I was in Netzarim (Jewish settlement in Gaza). I came under fire. My entire service in Gaza was one big operation. I've participated in dozens of terror incidents—not because I was doing anyone a favor, but because that's the job.
"And do you think hearing about Protective Edge while you're studying is not frustrating? We all train for the moment of truth, and all of a sudden an operation happens and you're out of the loop. I did come with others to the staging points (outside the strip). I don't know anyone who stayed at home. Everyone wanted to pitch it."
What did you think about the State Comptroller's report ?
"I'm not well-versed with the claims made there, and none of that matters to the families of the fallen soldiers. The IDF didn't wait for the report. It knows how to investigate its own actions, in my opinion even too much—a form of self-flagellation. No one in the army thinks the IDF is perfect, and the next conflict won't be perfect either. That is the nature of human endeavor.
"I tell the soldiers under my command: 'Every time you make a mistake because you used your judgment, I'd back you up. But if you do things without thinking, I'd kill you myself.' And still, we don't have the luxury of making mistakes, because we're dealing with human lives. We don't have the luxury of being careless or perfunctory, and I don't think commanders in the operation were. My responsibility as a commander is to ensure my soldiers will be ready. Can I tell you that guarantees they'll come back unharmed? I can't. Being in the army is a dangerous thing."
When the Elor Azaria affair broke out, you were also out of the loop, you were studying. What do you think of what happened there?
"I'm in no position to judge Elor Azaria. I just know what I do to minimize the chance something like this happens to my soldiers. The ethical code we follow is not new. The IDF has been educating morality before Azaria and will continue to do so. But because of the resonance in the media, we need to talk to the soldiers about it and not ignore it.
"My battalion, for example, conducts searches in homes, so we emphasize the issue of stealing. You need to understand, I don't educate my soldiers not to steal a can of coke from a house because I don't want to get in trouble. I'm doing this because I want people under my command to know there are limits and that not anything goes."
Wedding bells
Ben-Ezra lives in the Mattat base, near the settlement of the same name. She starts her day at 7am. "I manage the battalion's entire operations: deploying teams, operation rooms. When do I go to sleep? At around 2:30am."
Most of her friends are in the army or are recently released. When she goes home, to Moshav Beit Yitzhak, she goes to the beach a lot and surfs. She loves "books about the military or war movies."
And, on October 13, Ben-Ezra will go under Chuppah with her girlfriend, 28-year-old Lior Shahar. They're planning a modest wedding, "120 people, in my parents' back yard," though the location is not set in stone. This would be Lior's first wedding, but Dana's second.
"I didn't think I'd marry again," she admits. "But life is fluid. I'm the one who proposed, with a ring and everything. I even kneeled. It was all by the book. It was intimate, just the two of us."
They met when they were both doing a BA degree in Government and Diplomacy at the IDC Herzliya. But while Ben-Ezra squeezed her degree into two intensive years, Lior is only finishing her studies this year.
"She hit on me," Ben-Ezra chuckles when I ask her about the beginning of their relationship. "But I didn't realize. It sounds bad, but Lior doesn't look like a lesbian. And because I was stuck with the misconception that she isn't, I was sure she was just being nice. The penny dropped on our second year, when she explicitly told me: 'Dana, you left me no choice. I've been trying and trying and you can't take a hint.' After nine months together, I asked her to marry me."
It must not be easy to married to someone with a military career.
"Lior told me something I really liked: 'I wouldn't share you for anything else—money, status, career—except for the army. I'd only share you with the army.' It's not easy to live like that, when I come home once every three weeks and only spend one day a week at home. She was sick not too long ago, had a cold, and I wasn't there. Her ability to be understanding was incredible."
Do you ever find yourself in a romantic situation when the red phone (secure hotline) rings?
"There's an unwritten agreement between those who live in this operational reality that unless it's urgent, you don't call someone when they're home for the weekend. So at home, everyone knows that if I get a call like that, it can't stand to wait. If the phone rings, Lior would even go and get it, in case I didn't notice. We don't think 'Oh man that sucks, the phone's ringing.'"
Before the Obama era, gays and lesbians had a hard time in the US military and had to hide their orientation. What's it like in the IDF?
"Factually, out of all of the organizations in Israel, the IDF treats same-sex couples the best. Government organizations put you through the seven circles of hell. The National Insurance Institute, for example, insists on deciding for us whether we can be recognized as common-law partners. And while they've been sitting on the decision for seven months now, it took me 20 seconds to list Lior as my beneficiary with the military adjutancy.
"When I'm interviewed by senior commanders, and they ask me about my marital status, I of course always say I'm in a relationship with a woman, and throughout my 13 years of service there hasn't been a single commander who made me feel uncomfortable or made me regret having said it. Sometimes it ends with that. But some people are really interested and the conversation moves to 'tell me about it.'"
Since you're so open about it, do soldiers come to you to come out of the closet?
"My reputation in the battalion is: She's great, but don't mess with her. So I guess a gay soldier won't come to me."
When and how did you come out of the closet?
"Let's just say it didn't surprise anyone, and there wasn't a special talk about it. My mother knows me better than I know myself, and my father couldn't understand what all the fuss was about—'Are you happy? Then what's the big deal?'"
You've set high goals for your career. How do children factor into that? Do you want to have children?
"I'm putting this question on hold at the moment. Having children is a responsibility for life. You can't half do it, and at the moment I'm not on a path that leads to children. I want to be a deputy battalion commander and advance in field positions and I have the energy and strength to do it. I won't have children just for my mother to raise them. Lior doesn't want children right now either, so it works out. It's so obvious to us, that we don't even need to talk about it."
Women in the army
I ask Ben-Ezra if she's striving to one day become the chief of staff. "No," she answers immediately. "There are other interesting roles. First, a battalion commander, that's the next aspiration. And then onto bigger horizons in the IDF—the Operations Directorate, (commanding at the) officers' training course. Places where you make a difference on a larger scale. Being chief of stuff is awesome, really nice, the top of the pyramid. Perhaps when I'm 47. At the moment, just give me a battalion commander's job."
In the current climate, do you still believe in co-ed battalions ?
"If the battalions didn't justify their own existence, the army wouldn't have opened a fourth battalion. Give the army some credit. No one forced Eisenkot to open three more mixed battalions. The way I see it, the IDF is not carrying the flag of equality—it simply wants to take full advantage of the manpower at its disposal to prepare for war.
"Integrating women into the IDF is like a building: You can't build the 14th floor before you built floors 2-3. On the second floor we had female instructors and observers, now we're on the 4th or 5th floor, with the mixed infantry battalions. I don't know if this building is going to have 10 floors, but I'm also not sure anyone ever thought there would be a 5th floor. You have no idea how happy I am that we got there."
Do you see yourself leading a battalion of women into Saja'iyya in Gaza?
"If that is their assignment and their role, absolutely yes. And I assure you we'll do the job just as good as any other battalion going in. Caracal may not be going into Gaza at the moment, but there's precedent to this and girls went into Lebanon during the Second Lebanon War. There was a woman airborne mechanic who was killed, female munitions maintenance officers who went in to fix arms. This myth of 'Girls don't cross the border' is long gone from the world. Also, what difference does it make who goes into Gaza?"
How did you feel when you heard the IDF Chief Rabbi's comments on women , or when Avigdor Kahalani said women shouldn't be serving in tanks ?
"The IDF chief summoned the military chief rabbi for a clarification conversation. At the moment, the IDF chief rabbi is required to keep his eyes front, like the rest of us. I was taught to channel my energy into places where I want to make a difference. I can't influence rabbis, but I do use my energy to help women who want to enlist and work to give them the most respectable conditions possible so they could serve."
And she almost refuses to comment on the disparaging remarks recently made by Rabbi Yigal Levinstein about women in the IDF. "No, I'm not worried it would hurt girls' motivation to serve," she eventually says. "Women in the army are doing holy work. That's what I have to say, that's what I think about women's service in the IDF."
On International Women's Day, a female pilot confessed that for years she tried to be like the boys, deny her own gender. Did that happen to you?
"Never. On the contrary. In my opinion, the world would be better if we had the reins. Women have immense and extraordinary abilities, in any field. Even when we're made fun of for being sensitive. After all, what's sensitivity if not wisdom and the ability to read a situation? And what is command all about? It's about motivating people and pushing them forward. If a commander doesn't have a read on a situation, that is just absurd. When I was a company commander and I was asked what the difference was between commanding over men and commanding over women, I told the following story: Before every activity, I do a briefing. I make sure the team is ready, familiar, knows the drill, learned, drew conclusions. And then I tell them: 'You're ready, head out.' Now, a briefing for a women's team or a men's team is not the same. For men, half an hour and they're heading out. For women, I ask what intelligence we have and an in-depth discussion begins about why we're not going here or there, and it takes an hour or two. It's important to me to have soldiers who think, not robots. When it comes down to the conscript combat soldiers, girls go more in-depth, they want to understand the meaning and rationale behind everything."
During war, you don't have the time to go in-depth.
"When we have the time, we'll talk and ask questions. This is where I help them develop their thinking. So when we don't have time, their brains would already be loaded with all the knowledge and they would be able to make a decision even when I'm not there. If we don't open their minds, help them understand the mission, they won't be able to function."