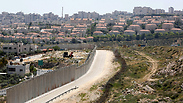 Israeli West Bank barrier
Photo: EPA
The Ministry of Construction and Housing is working alongside the city of Jerusalem to consolidate a construction plan to build over 28,000 apartments in the capital over the next decade.

Prime Minister Benjamin Netanyahu is expected to present US President Donald Trump with the plan at the latter's visit to the city later this month.

The agreement grants government indemnification to construct infrastructures such as roads, education facilities and parks even before any of the apartments are populated.

About 15,000 apartments will be built beyond the Green Line in Givat HaMatos, East Talpiot, Ramot, Pisgat Ze'ev, Neve Yaakov, Ramat Shlomo, Gilo and Atarot.

Aside from the apartments, the plan includes the construction of dozens of public facilities, community centers, schools and kindergartens.

10,000 apartments are set to be built within the Green Line in Lifta, Pat, Ora, Masua, Romema, Herzog, Arnona, Malha and Reches Lavan.

The plan, which was promoted by Minister of Construction Yoav Galant, is estimated to cost around NIS 5 billion.

"We are nearing a new age, the rise of which was felt since Donald Trump's rise to presidency. The days of stuttering are over," said Deputy Mayor Meir Turgeman, who helms the local planning and construction committee. "The pressure of the Obama era is no more, when every week every plan had to face 'yes and no, subtract here and add here.' In recent weeks, we authorize plans with no limitations."

The Jerusalem City Hall released a statement commenting that it "sees with great importance the continued construction and development of Jerusalem, especially in celebration of 50 years since its reunification, adding more than 7 million square meters of potential employment alongside an increase of the residential building, as a way to create jobs and lower apartment costs in the city."