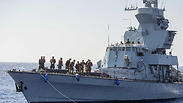 OPPORTUNITIES AT SEA
The time has arrived for Israel to take steps designed to transform it into a strategic trading bridge between the East and the West.

The Land of Israel had, in ancient times, played a strategic, overland role, in international trade, acting as a key Nabataean trading route.

As my 2016 research paper for the Haifa Research Center for Maritime Policy and Strategy lays out, modern-day Israel has yet to realize this same potential, and currently lacks a grand maritime strategy.

Creating a key trading bridge between East and West would require Israel to amplify its naval security capabilities, and its participation in regional naval efforts. These steps would, in turn, promote a grand naval strategy.

To the east, China's economy has made great strides forward over the past decade. China is a major producer and consumer and, as a result, trade between it and the West has grown significantly.

Israel is already highly dependent on the sea, through which the vast majority of its national trade occurs. Globally, the vast majority of all trade is sea-based.

Currently, sea traffic between East and West passes through the Suez Canal, bypassing the need to navigate around Africa, and saving vast expenses.

Yet despite Egypt's recent work to make the waterway deeper and broader, and the addition of lanes enabling increased traffic, Suez still faces constraints.

Due to its geographical location, Israel has the ability to initiate an economic maneuver that would create a new 'bridge,' with global opportunities.

This 'bridge' would also enable India, a vast, developing economy, to send exports to the West via Israel.

So far, all of Israel's port and rail infrastructure has been designed for internal use, and not to transfer or distribute international goods.

The time is ripe for Eilat to be turned into an international Red Sea shipping hub, and to be linked by a high speed rail link to the Mediterranean ports of Ashdod and Haifa.

Ships arriving from the east with cargo for distribution to destinations all over Europe and the US could unload their goods at Eilat, and return eastwards for more journeys, saving valuable time.

Such international distribution hubs exist in ports such as Singapore, and Greece.

China is already heavily involved in building Israel's new ports in Haifa and Ashdod, and Beijing is always seeking opportunities for increased access to European markets. It also has a controlling stake in Greece's Piraeus port, which China turned into a main European distribution center.

Israel has a real opportunity to integrate itself into this alignment.
SECURITY
Such a development undoubtedly requires enhanced defense capabilities, to ensure that trade remains uninterrupted. This means Israel would have to expand its high-level naval defense capabilities, to secure and monitor all international shipping traffic and sea vessels in the area, and possibly, beyond.

Criminals, pirates, and terrorists threaten shipping. ISIS in Sinai can impact the whole of Eilat. And Hezbollah and Hamas pose varying degrees of threats to maritime traffic through ballistic projectiles and surface-to-sea cruise missiles.

Egypt has had to deal with security threats to Suez too - there have been past, unsuccessful attempts by terrorist organizations to attack the Canal.

Should Israel become a strategic trading bridge, it would have to become a bigger partner in maritime regional security. This means making the sea arena more difficult for terrorists to operate in. Israel Navy ships will require the ability to deal with land-to-sea and sea-to-sea missile attacks on ships and shore-based targets, in order to safeguard maritime lines of communications and trading routes that would pass through Israel's waters. Israel would also have to ensure it can command and control a wider maritime arena than its current operational areas.

Hezbollah has evolved from a terror organization to semi-state entity, due to its links to Iran, and is in possession of advanced state-level weaponry. It likely possesses the supersonic Yakhont missile, which can be fired from the Lebanese coastline at targets at sea, or at Israeli ports. Hezbollah poses a significant threat to shipping and ports in the area. The Israel Navy already has defenses in place against such threats, so it can build on this model of defenses when it comes time to expanding operations.
THE EXCLUSIVE ECONOMIC ZONE AS A GATEWAY
Israel's Exclusive Economic Zone (EEZ) is currently home to natural gas drilling rigs that the Israel Navy is tasked with securing.

The EEZ could become a gateway, through which larger numbers of ships pass, requiring naval defense, control, and response capabilities.

Cargo ships arriving at Israel's 'southern gate' - Eilat - would pass by Saudi and Egyptian shorelines, and be near Jordan too. All of these countries have a shared interest in the free flow of sea shipping.

This common interest means that the conversion of Israel into a bridge could foster enhanced regional cooperation with the pragmatic Sunni states.

To enable such a vision, Israel would have to actively prevent adversaries and terrorists from infiltrating regions that can threaten shipping, and to minimize the freedom of movement of hostile elements as much as possible.

A secure, international distribution hub would greatly increase economic profit for Israel, and endow Israel with a new regional influence through cooperation with its neighbors in the maritime arena.

Jordan's Aqaba port could be a part of this program, since there is a limit to how many ships can dock at Eilat. Trains could take cargo from both Eilat and Aqaba to Ashdod and Haifa, and cooperation with Jordan would substantially increase as a result. Ports in Saudi Arabia could, in theory, be involved as well.

This is not expected to pose a source of competition to Egypt's Suez Canal. There is enough traffic for more than one sea highway linking East and West.
FROM ANCIENT TRENDS TO MODERN OPPORTUNITIES
Israel's lacks of a grand maritime strategy is partly because Jewish history has not had a significant sea-based cultural component. This is true for the history of the Diaspora, and also for the ancient era of Jewish sovereignty in Israel. The Hebrews always received assistance from other sea-based cultures, such as the Phoenicians, who were based in modern-day Lebanon.

These historical-cultural influences continue to impact decision-making in Israel today. David Ben Gurion, our first prime minister, was one of the few who saw the sea as a strategic asset, and since his time, few have reached the same recognition.

Energy Minister Yuval Steinitz has, in modern times, recognized the great potential benefits to Israel's geo-political regional standing that stems from a good sea strategy.

The increasingly crowded Israeli landmass means that Jerusalem should no longer delay setting down a strategy for expanded maritime use. This includes moving national infrastructure, such as power stations and future airports, out to sea, on artificial islands a kilometer or two off the coastline. This can be accomplished through a strategic investment.

Ultimately, if these steps are taken, Israel could become a maritime start-up nation.

Edited by Yaakov Lappin

Co-Edited by Benjamin Anthony