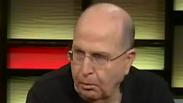 Ya'alon
Photo: Courtesy of Channel 2
Former Minister of Defense Moshe Ya'alon claimed Tuesday evening that Prime Minister Benjamin Netanyahu's involvement in the submarine affair is undeniable and that he acted in pursuit of financial gains. Speaking in an interview with Channel 2, Ya'alon further threatened, "If an indictment isn't filed, I'll go public and say everything."

"I knew about previous prime ministers who were corrupt," said Ya'alon. "Here, I heard gossip about conduct, and it wasn't really interesting. But the disregarding of priorities by a prime minister who prefers a favor, or money, over the interests of the state—that for me was a crisis."

When asked if he thinks whether or not Netanyahu and his attorney, David Shimron, are involved in the submarine affair, Ya'alon answered, "I have no doubt, it just needs to be investigated. The entire affair and the German shipyard is dirty. There are interests here that are not those of the State of Israel."

Ya'alon later posted a Tweet, repeating his threats to go public and divulge the details of the affair. "As is known, I testified to the police and gave investigators all the information I had, responsibly and honestly. Things speak for themselves and it is best for those involved not to broadcast panic and pressure, but to deal with the seriousness of the facts. If an indictment isn't filed, I will publically post everything I know," he wrote.

About two-and-a-half months ago, the state prosecutor and the attorney general ordered a move to a criminal investigation into the submarine affair "in light of the gathering evidence that raised reasonable suspicion against some of those involved in the affair to commit offenses of corruption."

A statement released at the time read, "According to the findings of the investigation so far, the prime minister is not among the suspects in the affair."

Another statement released on behalf of the Prime Minister dismissed Ya'alon's remarks. "Ya'alon's comments are nonsense and rude and his lies will soon become apparent."