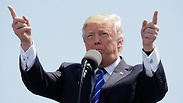 US President Trump. His entire conduct looks like a series of slips of the tongue
Photo: Reuters
As times goes by, the chance increases that Israel will eventually miss former US President Barack Obama, despite his conduct on the Iranian nuclear issue. While he made quite a few mistakes, he was a friend. He strengthened the Israeli-American security cooperation and approved multi-year aid which no other president before him had approved.

When he visited Israel and the Palestinian Authority in March 2013, he presented a political vision which most Israelis would embrace. In Ramallah, in front of the Palestinian political echelon, he said: "We seek an independent, a viable and contiguous Palestinian state as the homeland of the Palestinian people, alongside the Jewish state of Israel." Who needs the "nationality law" when we have Obama?

Two draft agreements were presented as part of former Secretary of State John Kerry's shuttle diplomacy. The first, which was presented in January 2014, received quite a lot of support from Israel's decision makers. Then-Foreign Minister Avigdor Lieberman gave his full backing to Tzipi Livni, who led the negotiations, and even stated: "Kerry's proposals are the best Israel could hope for." It wasn't much different from the Clinton Parameters.

Peter Beinart, the guru of the Jewish Left in the United States, wrote at the time that "Kerry's peace mission should worry liberal Zionists," as it was not generous enough towards the Palestinians. That was foolish. Three days after the article was published, on March 17, 2014, Obama presented a peace plan to Palestinian President Mahmoud Abbas. It had everything in it, including Jerusalem as a Palestinian capital. It didn't do any good. Abbas said no.

And US President Donald Trump? His understanding of the Israeli-Palestinian conflict is likely no different from his understanding of other international issues, which isn't much. His diplomatic vision is: "Do whatever you like, one state, two states." Never before has an American president given equal importance to a solution presented by the BDS movement, which is in fact the solution of Israel's radical right as well—one state.

In 1988, then-Secretary of State George Shultz's condition for a dialogue with the Palestinian Liberation Organization (PLO) was a declaration recognizing Israel as a Jewish state. Yasser Arafat agreed and made the declaration. Abbas reneged on the agreement. Obama, unlike Trump, knew that "one state" is a codename for an elimination of the Zionist vision.

Trump has absolutely no idea. In Trump's case, it was possibly a slip of the tongue. As a matter of fact, his entire conduct looks like a series of slips of the tongue, including the slip of the tongue which could jeopardize an intelligence source who reached a high position in the Islamic State.

There were enough warning signs regarding Trump before the elections. The Right didn't want to see it. It still refuses to see it. The blindness that could lead Israel to a "one-state" disaster may find a partner in Trump.

Trump is coming here next week. Welcome to Israel. But if he doesn't change, we will have both a cause for great concern and a good reason to miss Obama.