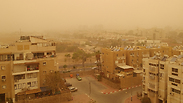 Haze in Eilat
Photo: Aviel Segal
Haze and heavy pollution struck Eilat on Thursday afternoon as Israel's southernmost resort city was hit by sandstorms coming from the Sinai Peninsula.

Eilat sand storm (צילום: מאיר אוחיון, עומר דהן)

"A haze is currently forming over Sinai and the wind is blowing it towards Eilat," said Tzahi Wachsman, a meteorologist for Meteo Tech.

Sandstorms painted the city in shades of yellow and orange, and the Israel Airport Authority announced that all flights are discontinued due to poor visibility conditions.



Route 90 was beliefly blocked in both directions from the Arava road to Eilat and route 12 was blocked from Eilat to the north because of the harsh weather conditions, with the roads reopening after about half an hour.

Wachsman postulated that the haze may also spread to the Negev region, but will probably not last long and will not be as strong. He added that "there is a chance of a drizzle Thursday evening and night … which may bring forth rain accompanied by mud."

The Ministry of Environmental Protection said the storm is expected to continue until midnight. The ministry warned of high concentrations of inhalable particles in Eilat and the Arava area, and upon consultation with the Ministry of Health, it was recommended that the general population refrain from strenuous physical activity outside. It is also recommended for sensitive populations—including those suffering from heart or lung diseases, the elderly, pregnant women and children—to refrain from staying outside unnecessarily.





The weather during the evening and overnight is expected to be pleasant and partly cloudy, and there's a chance of a local drizzle. On Friday, it will continue to be cloudy and temperatures will drop. In the north of the country, there may be a slight drizzle that will develop into local rain during the night hours.




On Saturday, there will be another drop in temperatures and it will become unusually cool for the season, especially in the mountains. Local rain will fall occasionally, especially in the north of the country, and in the center, light local rain is expected.

On Sunday, there will be a slight increase in temperatures, but it will still be a bit cooler than normal, especially in the mountains. In the morning, there may be a drizzle in the north of the country. On Monday, it will get even warmer and temperatures will be slightly higher than usual for the season. At night, the air will be cool and humid.