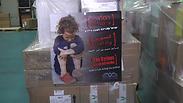 Just Beyond Our Border
Photo: Ido Erez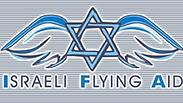 Israelis send medicine and other medical aid to Syrian children
The group Just Beyond Our Border raised over NIS 2 million in crowd funding campaigns to buy medical supplies for children suffering in Syria's civil war; 'This is our time to make a statement that the Syrian people are not our enemies. They're our neighbors, and as people we need to take care of them,' says one member.
There is excitement in the air as members of the Just Beyond Our Border group box hundreds of different types of medicine and medical equipment for children affected by the civil war in Syria.

One of the activists, Yotvat Fireaizen Weil, is putting stickers with the group's logo on the boxes, their name appearing in Hebrew, English and Arabic.

"We're a very diverse group coming from all walks of life in Israeli society, and we feel there are thousands of Israelis with us who want to be part of this work, who care and are willing to make an effort," she explains. "I know each of the medicines in these boxes is going to help children who need it so much."


Just Beyond Our Border teamed up with Israeli Flying Aid, an organization founded in 2005 that works to send life-saving aid to civilian populations in countries that have no diplomatic ties with Israel. Israeli Flying Aid was among the first organizations in the world to send vital aid to Syrian women and children in April 2011 and continues doing so to this very day.

The Just Beyond Our Border project was started by a group of caring and principled citizens who refuse to accept the indifference in the world toward the horrible slaughter of civilians in Syria.

During December 2016, the group mounted a crowd funding campaign, raising over NIS 2 million (over $550,000) on three different online platforms. With these donations, which came from hundreds of Israelis, they bought equipment, medical devices, and medicine.

The group's activists came together on social media, and they include men, women, religious and secular people from all over Israel, including kippah-wearing settlers from the West Bank.

The driving force of the group, Shivi Froman—the son of well-known peace activist Rabbi Menachem Froman—is doing last minute checks of the shipment. This is an exciting and emotional moment for him too, after a lot of hard work.

"Our aid focuses on children. On this pallet, for example, there are boxes with hundreds of units of inhalers for children who suffer from asthma," Froman says. "The dozens of pallets making their way to Syria carry many other types of medicine."

The medicine and other medical products in the boxes are made in Israel and have Hebrew writing on them, as well as the Israeli Flying Aid logo of a winged Star of David.

Does it not bother the Syrians to receive aid from the 'Zionist enemy,' which they've been taught to hate all of their lives?

"After over six years of continuous aid to the Syrians, they know very well that their own president, who promised to protect them from us, the Israelis, is the one who murders them mercilessly, while we are the ones who put politics aside and allow compassion to speak, doing everything in our power to give them basic living conditions," says Israeli Flying Aid founder Gal Lusky.

Just Beyond Our Border member Nethanel Peled emphasized the moral obligation that led him to volunteer to help Syrian children. "I think children are children, and as a people that experienced the Holocaust, being a third generation to the Holocaust myself, I think it is our duty and our privilege to help," he says.

Because the group came together on social media, this is the first time some of them get to meet face to face, resulting in a lot of hugs and smiles. Everyone is feeling that something important and special is happening here.

"We're feeling very excited," says Just Beyond Our Border member Zohar Kaplan. "This is our second shipment. We're feeling great pride. This is our time to make a statement from the citizens of Israel that the Syrian people are not our enemies. They're our neighbors, and as people we need to take care of them, and this is what we're doing. Perhaps in the future this would help them understand that we, on the other side of the border fence, are human beings—just like them."

To learn more about Just Beyond Our Border, visit their website or Facebook page . To make a donation, click here .