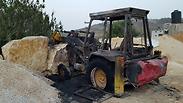 The incinerated tractor
Photo: Zacharia Sadeh
Tractor set alight in Palestinian village in apparent hate crime
Less than a day after a settler shoots and kills a Palestinian rioter after he and his wife come under attack from an angry Palestinian mob, a suspect is captured on camera pulling up next to a tractor in a Nablus village and setting it on fire, while spraying the word 'Revenge' on the wall and picture of the Star of David.
A hate crime was committed overnight Thursday in the Palestinian village of Burin in Nablus when unidentified suspects pulled up their vehicle next to a tractor and set it on fire.

The arsonists sprayed in Hebrew on the adjacent wall the word "Revenge" alongside a drawing of a Star of David.

Incident caught on camera

The incident was captured on camera, in which a man can be seen alighting a vehicle and walking up to the tractor before sending it up in flames.

The tractor was completely incinerated as police forces and IDF soldiers made their way to the scene where they launched an investigation.

While investigators are currently unsure as to the motives behind the "revenge," it was carried out less than a day after a settler from the village of Itamar opened fire and killed a 23-year-old Palestinian rioter and wounded an AP photographer after he and his wife were surrounded in their vehicle by a huge enraged mob.

Damage (צילום: זכריא סדה)

Crowds threw rocks at the car—which was deliberately blocked off by a Red Crescent ambulance vehicle—smashing the rear window and shattering the windshield.

During his questioning, the man who opened fire said that he feared for his life and described the attack as an attempted "lynch...I saw death before my eyes." The driver of the ambulance was arrested shortly after the riot.