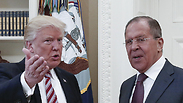 Trump and Lavrov
Photo: MCT
The United States and Israel are publicly brushing aside President Donald Trump's reported sharing of a highly classified tip from Israel with Russia, but spy professionals on both sides are frustrated and fearful about the repercussions to a critical intelligence partnership.

"I know how things work in Israeli intelligence," said Uri Bar-Joseph, a professor at Haifa University in Israel who has studied and written widely about the Jewish state's spy operations. "I have some friends I talk with. They're upset. They are sincerely frustrated and angry."

Meeting Russia's foreign minister and ambassador to Washington in the Oval Office last week, Trump shared intelligence about an ISIS threat involving laptops carried on airplanes, according to a senior US official who wasn't authorized to talk about the sensitive material and spoke on condition of anonymity.

US and Israeli officials have tried to allay concerns. National Security Adviser H.R. McMaster told reporters that Trump's disclosure was "wholly appropriate." Israeli Defense Minister Avigdor Lieberman tweeted that the allies will continue to have a "deep, meaningful and unprecedented" security relationship.

But some of the people who've spent years safeguarding that relationship say there will be consequences.

Trump made "two very serious mistakes," former CIA director John Brennan said Thursday at a financial industry event in Las Vegas.

"We shared a lot of sensitive intelligence about terrorism operations that were planned against the Russians," he said. "But we shared it through intelligence channels, and you also make sure that the language of what you are sharing is not going in any way compromise your collections systems. Mr. Trump didn't do that."

Shabtai Shavit, former chief of Israel's Mossad spy agency, told The Associated Press that his "gut feeling is that anyone who belongs to the professional club is very angry." Danny Yatom, another ex-Mossad boss, told an Israeli radio station that if reports were accurate, Trump likely caused "heavy damage" to Israeli and American security.

Bar-Joseph, the writer, said: "I won't say they won't share secrets anymore, but when it comes to the most sensitive information, there will be a second thought." Of Trump, he added, "If you can't count on the president, who can you count on?"

Both nations gain much from the exchange of information.

Israel, which lives in close proximity to Arab enemies and Iran, has human spies in parts of the volatile Middle East where the US doesn't. It also has robust cyber capabilities, enabling it to sometimes get word of plots that the United States doesn't know about.

Washington, in turn, provides Israel with financial and military assistance, and intelligence that US agencies collect on threats far beyond Israel's immediate borders.

"They have keen insight into things that we don't, and obviously, we have keen insights into things they don't," said California Rep. Adam Schiff, the House intelligence committee's top Democrat, stressing that he wasn't confirming that Trump shared an Israeli intelligence tip. "Working as partners, we are both stronger and safer as a result. They have certain skills and accesses that we don't, and vice versa. We have our blind spots and they have theirs and we share information extensively."

No one thinks the incident will derail the long-standing alliance. But subtle changes and a more careful approach to sharing may be inevitable.

Intelligence professionals in the United States are "deeply concerned, frustrated and increasingly disillusioned," one former intelligence official said. Another former intelligence official said the concern is that Israel will start "fuzzing" intelligence it shares with the US, avoiding specifics or detailing how information is obtained. Both individuals spoke on condition of anonymity because they weren't authorized to relay the sentiments they gleaned from conversations with current intelligence officials.

Soon after the incident was reported, Trump spoke by telephone Israeli Prime Minister Benjamin Netanyahu, whom the US leader is visiting next week. White House press secretary Sean Spicer said they talked only about the trip.

"Netanyahu really needs Trump right now to bolster his standing in Israel," said Elie Jacobs, an analyst on US-Israeli relations, explaining the lack of official Israeli criticism.

But it's not a threat some Israeli officials didn't foresee. Even before Trump took office, Jacobs said, Israeli professionals expressed concern that his loose lips would intentionally or inadvertently lead to Israeli intelligence being shared with Russia. That, in turn, might mean the intelligence ends up with Iran, a sworn enemy of Israel.

"It's possible that high-level information may not be shared for the time being," he said.

In Europe, where US allies are more directly concerned about the threat from Russia, Trump has garnered support.

NATO Secretary General Jens Stoltenberg said he is "absolutely certain" allies can share and handle sensitive information. German Foreign Minister Sigmar Gabriel said it's necessary to maintain US intelligence cooperation.

Israel and the US have had far more intelligence run-ins over the years. Jonathan Pollard, a former US Navy intelligence research specialist, pleaded guilty in 1986 to conspiring to deliver national defense information to a foreign government — Israel — and served 30 years in prison.

And Trump isn't the first US or Israeli leader to disclose intelligence in a way that made spy professionals cringe.

In the early 1970s, then-Israeli Prime Minister Golda Meir wanted to impress President Richard Nixon and his adviser, Henry Kissinger, with the quality of Israeli intelligence.

Despite opposition from her intelligence chief, Meir took to Washington the minutes of a Moscow meeting between former Egyptian President Anwar Sadat and Soviet leader Leonid Brezhnev. The intelligence had been collected by Ashraf Marwan, a close Sadat adviser, who was working for Israeli intelligence.

"My guess is that she wouldn't have done it with Trump," said Bar-Joseph, author of a book on Marwan, who was codenamed "Angel."