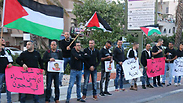 Demonstrating in support of the hunger strikers
The Arab-Israeli Monitoring Committee, headed by former MK Mohammad Barakeh, announced a strike and a day of rage in the sector on Monday, in solidarity with the 35-day security prisoners' hunger strike.

The strike will include businesses and public places, but not schools and medical services.

The demonstrators created a human chain from Megiddo Junction to Gilboa Prison.

In the villages of Ara, Baka al-Garbiyeh and other places, protest tents were erected, among which were family members of prisoners. In addition, there are demonstrations in support of prisoners in several Arab towns. "We will send a message to US President Donald Trump, who will visit Israel tomorrow, and call on him to intervene in the prisoners' struggle and stop their humiliation and the prohibition of meeting with their relatives," the committee said.

The head of the monitoring committee Barakeh, said that the government wishes to break the hunger strike, but claimed the prisoners' demands are reasonable: "In an unprecedented move, we gathered as components of the leadership of the Palestinian people from all areas of the West Bank and the Gaza Strip and in Jerusalem and in Israel, and announced a general strike that will include all Palestinian people wherever they may be, demanding a response to the prisoners' strike."

"The aim of the strike is to show the world, and also the American president, Netanyahu's attempts to market a normal life under occupation. It's a complete lie. We must show the truth that after 50 years of occupation the Palestinian people have not surrendered and want to establish their state alongside Israel," he continued.

He then added that Trump supports Israel's refusal policy, and is therefore "not a fair mediator between the Palestinians and the Israelis."

Said Masarwa, a resident of Wadi Ara, said on Sunday, "We all support the just struggle of the prisoners and we will continue to do so until the government of Israel stops humiliating them. Everyone should know that the prisoners are our greatest heroes and we are prepared to do everything for them without giving up. It's unjust preventing prisoners from seeing their relatives and treating them with such cruelty."

Dozens of security prisoners who ae hunger striking in prisons throughout the country were taken to Wolfson Hospital in Holon and HaEmek Hospital in Afula. The Israel Prison Service expects dozens of additional prisoners to be evacuated to hospitals across the country.