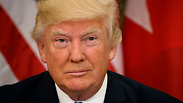 US President Trump
Photo: AP
US President Trump meets with Israeli President Rivlin
After a welcoming ceremony at Ben-Gurion Airport, the American president headed straight to Jerusalem to meet with his Israeli counterpart. Later, he will go on a private visit of the holy sites in the Old City and meet with PM Netanyahu, while First Lady Melania will join PM's wife Sara in a visit to the Hadassah Medical Center.
After arriving at Ben-Gurion Airport to much fanfare midday Monday, US President Donald Trump headed straight to Jerusalem to meet with his Israeli counterpart, President Reuven Rivlin.

President Trump and First Lady Melania will be welcomed to the President's Residence by Rivlin and his wife Nechama. After the American president signs the guest book, the two leaders will hold a private meeting following which they will make statements to the press.

Rivlin and his wife will then take Trump and the first lady to the garden at the President's Residence, where an almond tree was planted to mark the visit. A sign near the tree bears a quote in Hebrew, English and Arabic from the Song of Ascents in the Book of Psalms: "Pray for the peace of Jerusalem: 'May those who love you be secure. May there be peace within your walls and security within your citadels.'"

From the President's Residence, Trump will head to the Old City for a private visit to the Church of the Holy Sepulchre. He will then visit the Western Wall, where he will be accompanied by Western Wall Rabbi Shmuel Rabinovitch and joined by wife Melania, daughter Ivanka and son-in-law Jared Kushner, without any Israeli government officials.

The entire Western Wall plaza will be closed off for Trump, who will be the first president to visit the holy site while in office.

Meanwhile, First Lady Melania will join Prime Minister Netanyahu's wife, Sara, on a visit to the Hadassah Medical Center in Jerusalem's Ein Karem. They will talk with the medical staff and meet with children in the play area for a joint artistic activity.

After the visit to the Western Wall, Trump will head to the fortified King David Hotel, where he will be staying during his visit.

He will meet in private with Prime Minister Netanyahu at the King David Hotel at around 6pm, following which their teams will join the meeting.

At 7:15pm, Trump, Netanyahu and their wives will travel to the Prime Minister's Residence for dinner, which will be cooked by Israeli chef Moshe Segev. Singer Shiri Maimon will perform two songs, one of them being the Frank Sinatra version of "New York, New York."

Final preparations at the Prime Minister's Residence (צילום: לע"מ)

Following the dinner, the two leaders will give statements to the press but will not take questions.
A level-headed speech
On Tuesday morning, Trump will arrive in Bethlehem for a meeting with Palestinian President Mahmoud Abbas.

At 1pm, he will hold a short half-hour visit at the Yad Vashem Holocaust Museum, where he will participate in a memorial ceremony in the Hall of Remembrance. During the ceremony, Trump will rekindle the eternal flame and lay a wreath on a stone slab under which ashes from extermination camps are buried.

The American president will be invited to sign the Yad Vashem guest book and Yad Vashem Chairman Avner Shalev will present Trump with a token of remembrance, an exact replica of the original Holocaust-era personal album that belonged to Ester Goldstein who was murdered during the Holocaust at the age of 16.

Trump and First Lady Melania will be accompanied during their visit to Yad Vashem by Shalev, as well as Prime Minister Netanyahu, his wife Sara, and Chairman of the Yad Vashem Council Rabbi Israel Meir Lau.

Trump will then head to the Israel Museum, where he will make a speech to conclude his visit. In his speech, Trump is expected to present his vision for a peace deal between Israel and the Palestinians, and express his support to the people of Israel.

At 3:40pm, Trump will leave Israel for his next destination, Rome. There will be no official farewell ceremony, but Prime Minister Netanyahu and President Rivlin will accompany him to the airport.

Israeli officials believe that in light of Trump's level-headed speech in Riyadh on Sunday, his remarks in Israel are expected to be in the same vein.

Trump talking about Israel-Palestinian peace talks in Riyadh (צילום: רויטרס)

While Trump is determined to reach the "ultimate deal" between Israel and the Palestinians, American officials have been lowering expectations, with one saying "You don't reach a breakthrough in a 26-hour visit."

During this visit, the American president is expected to focus on the warm welcome from Israel and prepare public opinion for the resumption of peace talks.

While Trump and his administration have repeatedly assured an agreement will not be forced on the two sides, the Americans might exert pressure to push the talks forward.

The American president is expected to ask Netanyahu what solution he envisions for the conflict and whether he was willing to facilitate the establishment of a Palestinian state. Trump is expected to ask Israel to curb construction in settlements and make trust-building moves.

Meanwhile, Netanyahu and his security cabinet approved on Sunday a series of relief measures for the Palestinians, with eight ministers voting in favor and two ministers—Bayit Yehudi's Naftali Bennett and Ayelet Shaked—opposing.

The relief measures, which will be presented to Trump as trust-building moves, include longer opening hours for the Allenby Bridge border crossing, which connects the West Bank to Jordan; renovating and expanding the Sha'ar Efraim border crossing, which connects Israel and the West Bank; examining the expansion of the Valley Train, including the possibility of connecting it to Jenin; developing the industrial area in Tarqumiyah; and allowing use of land in areas adjacent to Palestinian cities.

In his meeting with Abbas, Trump is expected to ask the Palestinian leader to work to put an end to incitement and show flexibility on the issue of recognizing Israel as a Jewish state. Unlike his dealings with the Obama administration, so far Abbas has not presented any preconditions to meeting with Netanyahu.

American officials have indicated peace negotiations might be limited to a year.

Trump is accompanied on his visit by some 1,300 Americans, including security guards, Secret Service, Marines, and his entourage, all of whom will take up almost all of the available rooms in Jerusalem's hotels.

His convoy will include dozens of limousines, trucks and nine helicopters.

However, some of the senior members of Trump entourage have reportedly returned to the US and are not joining him in Israel.

White House chief of staff Reince Priebus made an early return to Washington ahead of budget discussions in Congress. CNN reported that Trump aide Steve Bannon will also not arrive in Israel, while some reports indicated Defense Secretary James Mattis will not join the president on the next leg of his trip either.