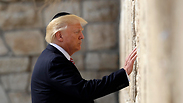 Trump visiting the Western Wall on Monday
Photo: AP
US President Donald Trump on Tuesday solemnly paid tribute to the six million Jews killed during the Holocaust, calling on the world to never forget "history's darkest hour."
On a visit to the Holocaust memorial Yad Vashem, the president rekindled the eternal flame and with the help of First Lady Melania Trump laid a wreath on a stone slab under which ashes from some of those killed in concentration camps are buried.
"This place is a testament to the unbreakable spirit of the Jewish people," Trump said during a brief speech.
He went on to say words can never describe the "bottomless depths" of the evil that led to the killing of 6 million Jews by the Nazis during World War II.
Calling the Holocaust was the most savage crime against God and his children, Trump said that the only way to "prevent this agony from repeating" is to never "be silent in the face of evil."
Netanyahu and Trump speak at Yad Vashem (צילום: לע"מ)
He noted that everyone has a solemn duty to remember, mourn, grieve and honor every life that was extinguished during the Holocaust.
Trump and First Lady Melania were accompanied on their visit to Yad Vashem by Chairman Avner Shalev, as well as Prime Minister Benjamin Netanyahu, his wife Sara, and Chairman of the Yad Vashem Council Rabbi Israel Meir Lau. They were also joined by Trump's daughter Ivanka and her husband Jared Kushner.
"We remember the Holocaust. We remember the hatred towards Jews that consumed a defenseless people," Netanyahu said during his own brief remarks. "We pledge never to be defenseless against that hatred again. And to fulfill that pledge, Israel must always be able to defend itself by itself against any threat."
He thanked Trump's for the US and his own commitment to Israel's security.
In reference to Trump's earlier comments calling the terrorists behind the bombing in Manchester "losers," the Israeli prime minister vowed to "make sure that they continue to lose. We will defeat them."
"You said, Mr. President, just now, that we must confront evil in the world, we must confront the barbarians. They are sadly still with us," Netanyahu added.
The American president was invited to sign the Yad Vashem guest book. Trump also received a token of remembrance; an exact replica of the original Holocaust-era personal album that belonged to Ester Goldstein who was murdered during the Holocaust at the age of 16.
Trump and Netanyahu participate in remembrance ceremony (צילום: לע"מ)
Ester's sister, Margot Herschenbaum, the sole survivor of her immediate family, presented President Trump the album.
Margot was born in 1929 in Joachimstrasse, Berlin to Blima and David Goldstein, who moved to Germany from Poland two years before she was born.
In 1939, she was sent to Australia as part of the Kindertransport (organized rescue efforts of Jewish children from 1938-1940).
Her older sister Ester was born in 1926 and after unsuccessfully attempting to flee Germany, was deported to Riga, Latvia in 1942, where she was subsequently murdered.
After liberation, Ester's cousin David Werner returned to the Goldstein family home in Berlin, where a neighbor gave him a box of papers that she had kept safe throughout the war. Among the papers was the album, which he gave to Margot, and in 2006, Margot donated it to Yad Vashem for safekeeping.
The album is comprised of messages of hope and friendship inscribed by Ester's family and friends. Some of the pages are embroidered with optimistic and innocent illustrations, while others include photographs of those dearest to her.
"Do not forget me" was a dedication written in the album by Ester's classmate Sonja Strenger, who was deported to Auschwitz in 1943.
The first entry is from 1937, when Ester was eleven years old, and the final one is dated September 16, 1942, about a month before Ester was deported to Riga and subsequently murdered.
The personal album of Ester Goldstein is one of hundreds of thousands of personal items preserved for posterity in the Yad Vashem Archives.
After his visit to Yad Vashem, Trump will head to the Israel Museum, where he will make a speech to conclude his visit. In his speech, Trump is expected to present his vision for a peace deal between Israel and the Palestinians, and express his support to the people of Israel.
At 3:40pm, Trump will leave Israel for his next destination, Rome. He will be accompanied to the airport by Prime Minister Netanyahu and President Reuven Rivlin, but there will be no official farewell ceremony.