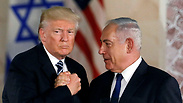 Trump and Netanyahu
Photo: Reuters
Trump: My administration will always stand with Israel
In a speech concluding his visit, the US president says the Palestinians 'are ready to reach for peace,' while Israel's PM Netanyahu 'is reaching for peace. He wants peace'; however, he warned that 'making peace will not be easy. Both sides will face tough decisions.'
US President Donald Trump vowed on Tuesday that his administration "will always stand with Israel" and was met with a rousing round of applause from his listeners at the Israel Museum in Jerusalem, the last stop of his visit to Israel and the West Bank.
Trump also expressed his administration's commitment to achieving peace between Israel and the Palestinians and in the Middle East at large.
The Palestinians, he said "are ready to reach for peace," while Prime Minister Benjamin Netanyahu "is reaching for peace. He wants peace."
"We know that both Israelis and Palestinians seek lives of hope for their children. We know peace is possible if we put the pains of loss and the past behind us," the US president added.
"Making peace, however, will not be easy. We all know that," he cautioned solemnly. "Both sides will face tough decisions."
Trump's speech
Conflict, he said, "cannot continue forever. The question is when nations will decide when they have had enough," adding that "Change must come from within. It can only come from within."
From Jerusalem, he called upon all people, "Jews, Christians, Muslim and every faith, to draw inspiration from this ancient city, to set aside our sectarian difference to overcome oppression and hatred."
Trump said he made a similar call at the historic Arab summit he attended in Saudi Arabia, "I urged our friends in the Muslim world to join us in creating stability, safety and security. I was deeply encouraged by the desire of many leaders to share in these vital goals."
The American president spoke of the threats and dangers Israelis face. "Israelis have experienced firsthand the hatred and terror of radical violence. They have been murdered by terrorists wielding knives and bombs. Hamas and Hezbollah shoot missiles into Israel where children are taught to run into bomb shelters. Iran's leaders routinely call for Israel's destruction," Trump said.
"Not with Donald J. Trump. Believe me," he vowed, getting another loud round of applause.
"The US is firmly committed to keep Iran from developing a nuclear weapon and halting their support of terrorists," Trump assured.
And listing the different joint US-Israel military programs, such as David's Sling and Iron Dome, Trump said it was his hope that "someday very soon Israeli children will never need to rush towards shelters as sirens ring out again."
He lauded Israel's contributions to the region and the world, and dismissed the "false choice" presented by those who oppose Israel. "They say that we must choose between supporting Israel and supporting Arab and Muslim nations in the region. That is completely wrong. All decent people want to live in peace," he said decisively.
Finally, describing his vision, Trump urged, "Let us dream of a future where Jewish, Muslim and Christian children can grow together is trust, harmony, and respect."
Just as he did in Bethlehem earlier Tuesday, Trump began his speech by once again offering his condolences to the victims of the terror attack in Manchester, calling on civilized nations to be united in pursuing the goal of destroying terrorism. "We must drive out the terrorists and extremists from our midst, obliterate this evil ideology," he said.
While he was in Bethlehem, Trump rebuked the Palestinian Authority for paying benefits to terrorists in Israeli prisoners and to families of terrorists both imprisoned and killed. In his own remarks, Netanyahu commented on that issue as well.
"President Mahmoud Abbas also condemned the horrific attack in Manchester. Well, I hope this heralds a real change, because if the attacker had been Palestinian and the victims had been Israeli children, the suicide bomber's family would have received a stipend from the Palestinian Authority. That's Palestinian law. That law must be changed," the prime minister said.
"I hope that President Abbas heeds the principles, the clear, strong, moral and practical principles that you enunciated today, President Trump: Stop rewarding terrorists, stop glorifying murderers," Netanyahu added.
Putting an end to benefits to terrorists, the Israeli leader said, is "first and the crucial step on the road towards a genuine peace."
A longtime businessman, Trump has cast Middle East peace as the "ultimate deal" and has tasked his son-in-law Jared Kushner and former real estate lawyer Jason Greenblatt with charting a course forward. Still, White House officials had downplayed the prospects for a breakthrough on this trip, saying it was important to manage their ambitions as they wade into terrain that has tripped up more experienced diplomats.
The president notably avoided all of the thorny issues that have stymied peace efforts for decades. He did not weigh in Israeli settlements, the status of Jerusalem or even whether the US would continue to insist on a two-state solution giving the Palestinians sovereign territory.
Aides said the approach was purposeful, and the normally free-wheeling Trump was well-aware of the risks of veering off script on issue where every word is intensely scrutinized.
From Israel, Trump headed to Italy for an audience with Pope Francis. He'll close his ambitious first foreign trip at a pair of summits in Brussels and Sicily, where his reception from European leaders may be less effusive than his welcome in Israel and Saudi Arabia, his opening stop on the trip.
The Associated Press contributed to this report.