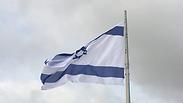 The flag flying over Ammunition Hill
Photo: Alon Vald
To mark the 50th anniversary of Jerusalem's unification in the Six-Day War, the biggest Israeli flag was flown over Ammunition Hill on Tuesday.

The massive flag weighs 40 kilograms (88 lb) and is 18 meters tall (59 feet), 10 meters wide (33 feet) and 180 square meters in size (20 sq ft). The monumentally big flag was flown atop a giant flagpole initially created to hang power lines.

צילום: אלון ולד, גבעת התחמושת

"A flag like that has never been flown in Israel," said Alon Vald, the head of events and marketing at the Ammunition Hill Museum.

Vald said flying that flag on Ammunition Hill 50 years after the Six-Day War battles to unite Jerusalem was very moving.

"This year, we decided to celebrate 50 years to the city's unification by bringing almost 2,000 soldiers from among Jerusalem's liberators for a festive ceremony on Ammunition Hill and at the Western Wall plaza in the Old City," he said.

"We decided to go big. The flag is almost as big as two parachutes. We flew it with the morning's first wind," he added.

But flying the massive flag was not easy. "I broke skin on my hands when I was raising the flag. After all, 40 kilos is not exactly minor. Raising the biggest Israeli flag in the country is a source of great pride to me."

Vald is the son of Paratroopers officer Rami Vald, who was killed in the battle of Ammunition Hill 50 years ago.