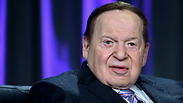 Sheldon Adelson
Photo: AFP
The Israel Police questioned US casino magnate Sheldon Adelson on Thursday as part of an ongoing criminal investigation of Prime Minister Benjamin Netanyahu, a law enforcement source said.

Netanyahu is suspected in two separate criminal cases of abuse of office. He denies wrongdoing in both cases and charges have yet to be brought against him.

The source said Adelson gave his testimony in regard to what police have dubbed "Case 2000," involving suspicions Netanyahu negotiated a deal in 2015 for favorable press coverage with the owner of Israel's best-selling newspaper, Yedioth Ahronoth.

Adelson, a supporter of Netanyahu and US President Donald Trump and a major donor to the US Republican Party, owns the widely-read free daily Israel Hayom. The handout is staunchly pro-Netanyahu and it is Yedioth Ahronoth's main competitor.

Haaretz and Channel 2 television reported in January that the deal Netanyahu discussed with Yedioth Ahronoth's owner was better coverage in return for curbs, possibly through legislation, on competition from Israel Hayom.

Adelson, who visits Israel periodically and was questioned in a police station near Tel Aviv, is not a suspect, said the law enforcement source who spoke on condition of anonymity.

Moshe Negbi, Israel Radio's legal affairs expert, said police would be trying to ascertain from Adelson whether Netanyahu had influence on Israel Hayom.

Israel Hayom is widely seen in Israel as being a Netanyahu mouthpiece. Its editors say it is independent and free of any political influence.

The second case Netanyahu is being investigated for involves suspicions of receiving gifts from businessmen in breach of his role as a public servant.

Arnon Mozes is the publisher and owner of Yedioth Ahronoth, Ynet and Ynetnews.