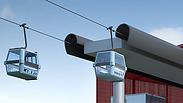 Cable car project in Jerusalem
Photo: Jerusalem Development Authority
In honor of the 50th anniversary of the unification of Jerusalem, the government approved the cable car project in Jerusalem on Sunday, led by Tourism Minister Yariv Levin.

The cable car will provide a solution to the problem of difficult access to the Western Wall and will provide quick and convenient access to about 130,000 visitors and tourists visiting the Western Wall every week.

Cable car in Jerusalem

The cable car will run between the station compound, through the Mount of Olives, all the way to the Dung Gate, and it will be visible from the height of the city of Jerusalem and its sites.

The planned route is about 1,400 meters long, with 40 cars able to carry 10 passengers each, at 21 kilometers per hour. The four stations through which the cable car will pass are the railway station, HaMefaked Street, Mount Zion and the Western Wall station. The price of a cable car ride will be the same as bus fare.

Politically speaking, this is a very sensitive project, since the cable car crosses the Green Line and one of its stations is supposed to be built in an area controlled by the Elad settler association (which will also help finance part of the project) at the Givati parking lot.

The French company that was supposed to carry out the project withdrew from it following political pressures and an order from the Paris Ministry of Foreign Affairs. The plan also raises objections because of the dozens of giant pillars that will be built at short distances from the most religious and scenic sites—including the walls of the Old City, churches and the Temple Mount.

The Ministry of Tourism said that the cable car will be used by all residents of Jerusalem, Jews and Arabs, as well as the tens of thousands of tourists who arrive in Jerusalem, and will shorten their time of arrival in the Old City.

Currently, the access roads to the holy sites are narrow, steep and overloaded due to the topographical structure of the Old City, making it practically impossible to expand the existing routes or pave additional roads.

The cable car will also serve as an accessible transport solution to people with disabilities, and it will be "green" due to the use of non-polluting electricity. As published in Yedioth Ahronoth, the government will also approve the construction of an elevator to the Western Wall.

The cost of the entire project is NIS 200 million, most of which will come from the Ministry of Tourism, and the cable car is expected to begin operations in 2021. "The cable car will change the face of Jerusalem," said Minister Levin, "to provide easy and convenient access to tourists and visitors at the Western Wall … There is no better time than the marking of the 50th anniversary of the reunification of Jerusalem to commence such a revolutionary project."