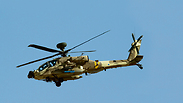 Commander of the Israel Air Force (IAF), Maj. Gen. Amir Eshel, has decided to appoint a new commander to lead the prestigious "Magic Touch" Apache attack helicopter squadron after the previous candidate, known as Lt. Col. 'A,' failed to acquire a security clearance.

It had been previously reported that Lt. Col. 'A,' the son of a well-known public official, failed multiple polygraph tests, thus prohibiting him from getting the necessary security clearance.

The revelation came as a surprise to many as Lt.Col. 'A' was considered practically a shoo-in for the position. Currently, he is waiting for Eshel to make a decision regarding his future in the IAF.

According to officials involved in the incident, Lt. Col. 'A' was given several opportunities to explain his failures in the polygraph tests and retake them, only for him to be unsuccessful.