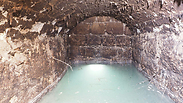 An Ottoman-era well and advanced water system was discovered during an archeological excavation conducted by the Israel Antiquities Authority (IAA) while working on the expansion of Highway 38 near Beit Shemesh.

The site was discovered by IAA personnel working with students of a military preparatory academy.

The well excavation site (צילום: מיכל הבר, רשות העתיקות)

The dig was out at the behest of the Netivei Israel National Transport Infrastructure Company, which was conducting the road work.

The well was discovered roughly 3.5m below the surface, penetrating the water table. The well and nearby water system contained an underground, vaulted reservoir. IAA researchers believe that the structures—which have not been found anywhere else in the area—were used for water storage.

Michael Haber, director of the site for the IAA, said, "Highway 38, which connects Sha'ar Hagai with Beit Guvrin, is today one of the main arteries of the country, providing a corridor between the north and south. This has been the case throughout the history of the country.

"The construction of wells, as we have seen, was done at various times to meet the needs of the people on the road and those who lived alongside them. These people were careful to maintain the wells as the exclusive source of water and prevented their dehydration using sophisticated engineering methods."

According to Amit Shadman, an area archeologist, the discovery of the site and its importance to the landscape pose a great challenge to road planners and the IAA. The goal is to find a way to preserve the site as much as possible and still develop the area.