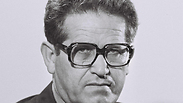 Mordechai Tzipori
Photo: David Eldan/GPO
Former Irgun member, minister and IDF general Mordechai Tzipori passes away
Tzipori, who died age 92, participated in some of Israel's most significant operations; the former Irgun fighter dug escape tunnels from British detention, served as a general, became a minister in both Menachem Begin's governments, and participated in the planning of Israel's lightning obliteration of Iraq's nuclear reactor.
Former minister and member of the Irgun Mordechai Tzipori, who carried out numerous key operations before and after Israel's establishment and served as a high-ranking military official, passed away at age 92 Monday.

Tzipori, who acted as the deputy defense minister and minister of communications during Menachem Begin's Likud government, died in Sheba Medical Center in Tel HaShomer.

The military warrior filled a host of senior positions in the IDF's Armored Corps in the first decades after Israel's establishment. Toward to the end of the 80s, he served as Director General of the National Insurance Institution.

In 1939 when Tzipori was just 15, he joined the underground Irgun movement and at age 20 began participating in operations against the British Mandate.

One year later, in June 1945, Tzipori was captured and sent to Sudan from where he was transferred to Eritrea and then onto Gilgil in Kenya. There, he was one of the main diggers of escape tunnels from the detention camps.

On his 80th birthday, his son Shlomi, who is an attorney, organized a trip to Africa where his father searched for the escape tunnels which led to his freedom, along with his friend who also served in the underground more than 60 years prior. "I was here for a third of my time," Tzipori said during an interview with Yedioth Ahronoth.

In the summer of 1948, the former Irgun fighter returned to Israel where he drafted into the IDF and eventually reached rank of Brigadier General and Chief Armored Officer. He would also hold a number of other positions in the IDF.

His illustrious career eventually brought him into the political sphere, where he served two terms as a Likud MK between 1977 and 1981, holding the position of deputy defense minister during Likud's first government headed by Menachem Begin, who also headed the Irgun, and as communications minister during Begin's second government.

During his tenure as deputy defense minister, Tzipori oversaw the famous June 1981 secret operation, known as Operation Opera, in which Israel stunned the world when it destroyed Iraq's nuclear reactor in a rapid surprise airstrike.

Tzipori was known for his courage to speak up when he felt necessary, rarely shying away from challenging even the most domineering personalities in the Israeli establishment. Indeed, he was one of the few who dared to criticize Defense Minister Ariel Sharon over his handling of the First Lebanon War.

Notably in 2015, Tzipori derided Prime Minister Benjamin Netanyahu and announced that he would not be voting for the Likud. "This Bibi is the biggest bluffer in the world. Perhaps he speaks well, especially in English, but if psychologists and other experts ever analyze all his speeches, from the first to the last, it would become clear that everything is just a balloon with hot air," he scorned during an interview with Yedioth Ahronoth.

His funeral will take place on Tuesday during which he will be buried in the Irgun fighters' section in the Segula Cemetery in Petah Tikva.