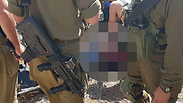 Scene of the attack
Photo: TPS
Soldier stabbed, terrorist shot in West Bank
IDF soldiers open fire on a female terrorist after she stabs and lightly injures a soldier at the entrance to Mevo Dotan; soldier receives treatment at the scene as the terrorist is rushed to hospital in critical condition and succumbs to her wounds a day later.
A 16-year-old female terrorist stabbed and lightly wounded a soldier using a scewdriver at the entrance to Mevo Dotan in the West Bank Thursday morning.

The Palestinian terrorist from Ya'bad was neutralized at the scene by security forces and was treated after being described as being in critical condition. She was subsequently rushed to the hospital and pronounced dead on Friday morning.

Stabbing captured on CCTV

The soldier, who sustained light injuries to the stomach, was treated at the scene without need for evacuation.

The last stabbing attack to have taken place in Israel was on May 23, during which a Border Police officer was stabbed in Netanya by a 45-year-old terrorist who was shot and neutralized by his victim.