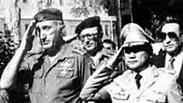 Mike Harari and Manuel Noriega
Former Panama dictator's secret ties to Israel
Manuel Noriega, who died earlier this week, had close ties to senior Mossad officials and the agency's special ops commander Mike Harari. For years, the despot leader aided in countless top secret Israeli intelligence operations, which would not have gone ahead without his help.
Former Panamanian military dictator Manuel Noriega, who died earlier this week at the age of 83, had secret ties to the Israeli defense establishment and provided assistance in countless top secret Mossad operations, as exclusively revealed by Yedioth Ahronth, Ynet's print publication.

Mike Harari, who was the head of the Mossad's special operations unit Caesarea for many years, was the one who established and managed Israel's ties to the dictatorship.

The genesis of the secret ties can be traced back to 1968, when Harari travelled to Panama. "Panama is a land of duty free, no taxes, and there is a presence of 180 international banks, including immense international development and investments," Harari told me in a series of conversations in 2014, several months before his passing. It was the last interview, and one of only two, he had agreed to give.

During that trip, Harari decided to relent to the constant hassling of a local collaborator to meet with a Panamanian major who was at the time in charge of airport security, one Omar Torrijos. The meeting lasted for 12 hours, during which Harari learned of the admiration in Panama towards the State of Israel and particularly towards its most Israeli symbol—Moshe Dayan. This meeting marked the beginning of a close friendship.

On October 11, 1968, Torrijos staged a military coup and took over control of Panama. From that point on, the country was completely open to Israeli intelligence agencies.

"Torrijos didn't get money from us," Harari stressed. "I don't have a problem paying $100,000 to a local asset, but I won't pay a dollar to a country's ruler. He didn't need our money anyway, he had enough money to fund us, but we helped him in other ways."

The Mossad made sure Torrijos and his family received the best medical care Israel could provide and even helped locate the father of his Jewish wife Rachel, who disowned his daughter for marrying a non-Jew. Harari and the Mossad convinced the father, who was in the US, to forgive his daughter and organized an emotional family reunion, held under the auspices of Moshe Dayan. Torrijos was overjoyed and grateful to his guardian angels in the Mossad.

Manuel Noriega, Torrijos's head of intelligence, knew about the cooperation with Israeli intelligence. He succeeded Torrijos after the latter met his end under mysterious circumstances and maintained the close ties with Harari and his people.

It would be safe to assume that thanks to Noriega, countless of Israeli intelligence operations went ahead that without him would have been difficult and perhaps impossible to carry out.

Harari admitted that neither Torrijos nor Noriega were saints, adding that allegations of arms and drugs trafficking, along with stories that they tortured and assassinated their opponents "were not completely farfetched."

On the other hand, he stressed that Israel "was never involved in those matters, and they both made absolutely sure we did not come into contact with anything of the kind. What can you do? In this kind of business, you can't be too picky about choosing your friends."

Harari retired from the Mossad in 1980. Then-Prime Minister Menachem Begin tried to convince him to stay, but Harari insisted. Begin conditioned his retirement on Harari remaining in the Mossad reserves and continuing to manage the covert ties with the rulers in Panama. Begin attached significant value to ties, viewing them as a strategic asset for the State of Israel, which had "critical importance" for state security.

At the same time, Harari launched some private business endeavors in Panama in the field of irrigation and maintained his connections with its rulers—who consistently voted in support of Israel at the UN, an issue of great importance at the time.

In the middle of the 1980s, relations between the leadership in Panama and the United States began deteriorating, leading President George H. W. Bush to invade Panama and take control of the canal.

But before that happened, senior US officials asked Israeli Prime Minister Itzhak Shamir, on Bush's behalf, to recruit Harari as a mediator between Panama City and Washington.

Harari revealed to me that he formulated a compromise deal in which Noriega would step down quietly and be allowed to immigrate with his money to another country, where he could seek shelter.

"In the end, because of infighting in the Panama regime, the entire initiative collapsed, and the unnecessary war broke out," Harari said.

The US invaded Panama in 1989 and sought out two wanted people—Manuel Noriega and Mike Harari. The Mossad veteran was wanted by the US because the Americans were convinced he was Noriega's closest advisor.

The US unjustly accused Harari of involvement in Noriega's drugs and arms trafficking and later announced it had captured both men during the invasion.

This, too, was false. Noriega had indeed been captured and served a life sentence in US prison. Harari, however, managed to escape "in an Israeli submarine that came to rescue him"—or so the Americans believed—and returned to his home in Tel Aviv.

In reality, Harari was able to escape the Americans through land with the help of local collaborators.

But the stain on his reputation, as one who was allegedly involved in Noriega's criminal endeavors, bothered Harari immensely to his dying day. This, in all likelihood, was what led him to speak with me so candidly about his life, something that was clearly not easy for someone like him.