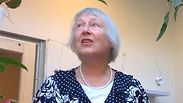 German woman returns to her roots, converts to Judaism at 81
She had a Jewish grandfather, but somehow Mazal Herzfeld managed to survive Nazi Germany with her family. After years of trying to escape from her Jewish roots, she took a leap of faith and recently completed the process of converting to Judaism; Herzfeld: 'From the moment I arrived to my first prayer at the synagogue, it felt like I returned back home.'
At the age of 81, Mazal (Monica) Hartzfeld converted to Judaism.

The little girl from Düsseldorf, Germany, who spent her childhood in the dark days of Nazi Germany, came full circle in Gush Etzion in Israel, where she completed the conversion process via seminars by AMI, an organization which offers Judaism conversion seminars in Israel for those who are not Israeli citizens.

"I was three years old when it all began," she told in an interview with Ynet. "At the time, we lived in Düsseldorf, and when the war started, I could see as a young girl the attacks on people and on their property."

"My great grandfather was Jewish, and the subject of Judaism was very dear to my father. He always told us stories from the bible," she recounted, saying the last few words in Hebrew and pointing to the bible which always had a place of honor at their home. "My dad was baptized as a Christian, but he never went to church, and he didn't baptize us, his children."

Even though she had "Jewish blood" running through her veins, her family managed to escape the death sentence that her neighbors were received—even those who were only considered one-quarter Jewish by the Nuremberg Laws.

"There were others who were under similar circumstances who managed to survive," said Hartzfeld. "But it wasn't simple. You needed a patron; someone local who will protect you and take care that the authorities won't know (of your heritage). It wasn't easy, but that's how dad managed.

"I remember them taking me and my sister to school, and people would whisper behind our back and say 'how is it that they let a Jew attend school? That's impossible."
I wanted to leave it all behind me
At some point during the war, Hartzfeld said that her family felt "like the ground was burning under our feet," and decided to flee to a rural part of the country. "It was better for us there. People accepted us, and that's where we stayed until the war ended. We didn't have a home to return to, since Düsseldorf suffered massive bombing, but at least the war was behind us."

How was growing up as a Jewish woman in Germany after the war?

"I was never persecuted," noted Hartzfeld. "I was a little girl when it all started, so I didn't suffer like my dad did, but even as a child I could feel the distancing. Once someone knew of your roots, they immediately treated you with this sort of distance. That's how it always felt.

"That's how it was until the 60s, when the reforms took place and Germany changed. For my dad, though, it was difficult until the very end."

When did you become interested in religion?

"Even as a child I understood that Judaism is very important to my father. He always spoke proudly of it, when everyone else saw it as obscene. He would tell me about the special kitchen that his mother had, where they prepared food and ate in accordance to the Jewish Kosher laws.

"He used to tell me, 'even if you disagree with what's written in the bible, never mock it; respect it.'"

When she grew up, Hartzfeld thought to build a life for herself, outside and far away from her father's Jewish ideals. "I married a Chirstian, of course, and I wanted to raise a Christian family and leave the rest behind me, but it happens. My marriage didn't last. The kids grew up and left, and I found myself soul searching.

"It was obvious to me that I didn't feel any connection with Christianity, and like my father, I always saw Christ's whole story as somewhat fictitious," said Hartzfeld, who decided to go back to her roots. "I started learning Hebrew, and then the bible. I read more and more, and finally reached the Jewish community in the city I lived in back in Germany, and asked if I could join their prayers at the synagogue. They replied that whoever wants to join can, and that's how it started."
"Do you know what it means for me to receive the Torah?"
Hartzfeld was a diligent student, and despite her age, managed to complete the longest Judaism conversion process in Israel. "It was most exciting in Shavuot," said Hartzfeld. "Do you know what it means for me to receive the Torah?" she rhetorically asked, speaking about the holiday's tradition. "I dreamt about it for many years. Now, I'm 81-years-old, and I'm finally there."

According to Rabbi David Ben-Nissan, coordinator of private conversion at AMI, Hartzfeld became a household member of the Jewish community. "She reached out a few years ago to convert. It was just amazing to witness," said the Rabbi. "She came in every Shabat from beginning to end, went to all the prayers and lessons, always driven. She would even help me with my German during long lessons.

"As far as she's concerned, it's the right path, it's what's true for her. I was impressed by how a person of her age just refused to give up. This is true Jewish conversion from the purest place there can be. There is nothing here except a sincere desire to join the Jewish people."

When Hartzfeld, who now proudly calls herself by her Jewish name from her youth, ended by answering the seemingly obvious question—why?

"I don't even know how to explain it. From the moment I arrived to my first prayer at the synagogue, it felt like I returned back home. This is the life I always wanted to have. I feel now like everything had a reason. There was a reason for our survival, there was a reason for my dad's speeches about Judaism, there's a reason that—even at my age—I'm still in good health.

"In the morning, when we wake up, we (Jews) thank god for returning our soul to us. As far as I see it, he returned my soul to me for this. So I, myself, can return."

(Translated & edited by Lior Mor)