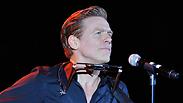 Bryan Adams
Photo: Getty Images
The international stars parade to Israel is not slowing down. Yedioth Ahronoth has learned that Canadian rock star Bryan Adams has signed up for three performances in Israel.

The first show will be held on December 4 at the Menorah Mivtachim Arena in Tel Aviv, the second show will take place two days later at the Pais Arena in Jerusalem, and the third has yet to be finalized. Ticket sales should open Sunday. The starting price: NIS 199.

Adams, 58, was born in Ontario Canada. His father was a diplomat and as a child, his family lived in Portugal, Austria, and in the early 1970s, also in Israel.

Adams began working in a studio at the age of 17. He then joined a Canadian rock band named Sweeney Todd as a vocalist. They managed to release one album but within less than a year, he left the band.

In 1978, he met his creative partner Jim Vallance and then signed a $1 contract with A&M Records. His debut album was released in 1980 and was warmly received in the US market, though without big hits. A year later he released his second album, You Want It You Got It, which included the hit song, Lonely Nights.

His breakthrough came with the third album, Cuts Like a Knife, in 1983, with tracks like Straight from the Heart and This Time making their rounds on the Top Hits lists.

His rise to the status of international music sensation came with the fourth album, Reckless that already included iconic songs such as Summer of '69, the ballad Heaven Run to You and Somebody.

The next big hit came in 1991 when he released Waking Up the Neighbors, which included the major hit, Everything I Do I Do It for You, the theme song from Robin Hood starring Kevin Costner. The song broke records by remaining in first place for 16 consecutive weeks on the British charts. The album itself sold more than 16 million copies.

Adams released his last album in 2015. Throughout his career, he has sold more than 100 million albums to date.