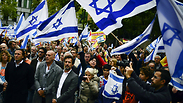 Pro-Israel march
Photo: AFP
The Ministry of Strategic Affairs, which is headed by Minister Gilad Erdan and is leading the fight against the Boycott, Divestment and Sanctions (BDS) movement, is planning to launch a webpage and mobile app designed to help aid in the fight against boycott attempts.

The site, 4IL, will offer videos, cartoons and content for distribution to pro-Israel activists around the world. Simultaneously, activists from the Israeli American Council (IAC) and the Interdisciplinary Center Herzliya will launch the app version called Act.il, which will allow users to flag companies or websites that make anti-Israel decisions.

The launch of the site and the application will be accompanied by an extensive advertising campaign and a series of events in New York, including a support march for Israel on Sunday on Fifth Avenue.

Minister Erdan, Governor of the State of New York Andrew Cuomo, Jerusalem Mayor Nir Barkat, Knesset members, senators and congressmen are all expected to participate in the march.