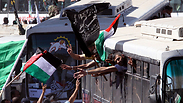 Prisoners released in Shalit deal return to Gaza
Photo: EPA
Scores of Hamas members once imprisoned by Israel did not receive their stipends this month from the group's political rival, Palestinian President Mahmoud Abbas, a Gaza-based official said Sunday.
Abbas is under pressure from the US and Israel to halt monthly payments to thousands of current and former security prisoners who were imprisoned for carrying out terror attacks against Israelis. Israel says the stipends encourage terrorism, while Palestinians say they are welfare payments.
It was not clear if the missing money transfers meant Abbas decided to stop the payments to some of the ex-prisoners. A spokesman for his West Bank-based autonomy government was not immediately available for comment Sunday.
In the past, Abbas was reluctant to halt the payments, fearing a popular backlash. Support for prisoners is a Palestinian consensus issue, despite the political split between Hamas, which rules Gaza, and the Western-backed government of Abbas' Fatah movement.
Abdelrahman Shadid, who runs a Hamas-linked prisoner advocacy group in Gaza, said 277 ex-prisoners from Hamas had not received their salaries as scheduled.
"The prisoners went to the banks today and found no salaries in their accounts," he said. "We are waiting to hear from the bank officially tomorrow to see if this is a salary stop."
Shadid said those affected had been released in the 2011 prisoner exchange between Israel and Hamas that saw IDF soldier Gilad Shalit freed in return for more than 1,000 prisoners. Among those who didn't receive their stipends was only one from Fatah, and the rest were from Hamas, said Shadid.
Currently, more than 6,000 Palestinians are imprisoned in Israel, for offenses ranging from stone throwing and membership in groups outlawed by Israel to attacks that killed or wounded Israelis. Several hundred are being held in administrative detention.
"Abu Mazen (Abbas) is punishing freed prisoners by suspending the salaries they and their families rely on...We believe the Palestinian Authority has succumbed to American and Israeli pressure," said Zaid Al-Kilani, a former prisoner from Hamas who was serving a life sentence before he was freed in the Shalit deal.
The move may also be an attempt by Abbas to force reconciliation between Fatah and Hamas.
Several attempts at reconciliation, most recently in 2014, have failed to produce a power-sharing government for the West Bank and Gaza.
In April, the Palestinian Authority said it would no longer fund electricity that Israel supplies to the Gaza Strip and it has slashed the salaries of its 60,000 civil servants in Gaza—but not the West Bank—by 30 percent, offering no explanation other than a lack of foreign aid money.
Reuters contributed to this report.