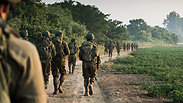 IDF troops in surprise drill on northern border
Photo: IDF Spokesperson's Unit
The IDF's Northern Command completed an extensive surprise drill on Monday meant to test the Galilee Division's readiness to combat a large-scale Hezbollah attack at a short intelligence notice.

Thousands of soldiers from the Northern Command's conscript divisions were called in for the drill, which began Sunday morning and ended Monday afternoon.

Surprise drill on northern border (באדיבות דובר צה"ל)

Among the troops participating in the exercise were soldiers from the Golani Brigade and the special operations Oz Brigade, which has been dubbed the Commando Brigade. In addition, troops from the Combat Intelligence Collection Corps and other Special Forces took part.

The troops only had a few hours to leave their assigned posts and head to the northern border.




Unlike drills conducted by other divisions, during which reserve forces are also called up, this time the IDF sought to test the ability and flexibility of the conscript forces to arrive at the Lebanese border quickly to counter a large-scale, surprise ground attack by Hezbollah forces.

A senior IDF officer said the drill helped the army learn more about the Galilee Division's ability to command reinforcements sent to its area, the use of the Commando Brigade in such a scenario on the northern border, and the issue of communications between the forces.

"The more we're seen training and preparing, the more the threat decreases," the senior officer said.

IDF Chief of Staff Lt. Gen. Gadi Eisenkot watched the drill on Sunday along with GOC Northern Command Maj. Gen. Yoel Strik and the Galilee Division Commander Brig. Gen. Amir Baram.