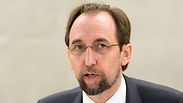 Zeid Ra'ad al-Hussein
Photo: AFP
UN human rights chief calls on Israel to end 'occupation of Palestinian territory'
Commissioner Zeid Ra'ad al-Hussein says Palestinians are marking 'a half-century of deep suffering under an occupation imposed by military force' after the Six-Day War, telling Israel that maintaining the 'occupation' will only lead to 'prolongation of immense pain' for both peoples.
The United Nations human rights chief called on Tuesday for an end to Israel's "occupation of Palestinian territory," saying it would benefit both sides after 50 years of enmity.

Zeid Ra'ad al-Hussein, in a speech opening a three-week session of the UN Human Rights Council, said that the Palestinian people were marking "a half-century of deep suffering under an occupation imposed by military force."

He said Israeli rule of the West Bank and east Jerusalem "has denied the Palestinians many of their most fundamental freedoms, and has often been brutal in the way it has been realized; an occupation whose violations of international law have been systematic, and have been condemned time and again by virtually all states."

Zied said his experiences as a boy during the 1967 Six-Day War "forged my later desire to understand the depths of Palestinian suffering but not only that, Jewish suffering too—the latter spanning over two millennia, and which culminated in that colossal crime, the Holocaust."

Zeid, a Jordanian prince, acknowledged that some people would respond "that the experiences of the two peoples are not equivalent: How could I mention them in one breath?

"Indeed, I agree: The Holocaust was so monstrous and so mathematically planned and executed, it has no parallel, no modern equal."

Zeid asserted both peoples, Israelis and Palestinians alike, deserve freedom and cautioned, "Maintain the occupation and for both peoples there will only be a prolongation of immense pain."

The Palestinians, he said, "deserve to bring up their children safe in their homes, on their land, exercising their rights in their state, free from this long and bitter occupation."

The Israelis, meanwhile, deserve "a different sort of freedom, for they have long had their state, but they too have suffered grievously. The Israeli people have long endured unlawful attacks against their own civilian population—attacks which are often vicious, in clear violation of international humanitarian law, and also worthy of condemnation. Israelis too need to be free from this violence, from any existential threat posed to them."

The commissioner began his speech with the Israeli-Palestinian conflict and only after dedicating several minutes to it did he turn to other conflict zones, reporting ISIS murdered at least 163 Iraqi men, women and children in Mosul on June 1 alone to prevent them from fleeing the fighting in the city.

"The brutality of Daesh and other terrorist groups seemingly knows no bounds," he said, referring to ISIS by its Arabic acronym.

US Ambassador to the UN Nikki Haley is expected to address the counil during Tuesday's session. Haley recently wrote an op-ed for the Washington Post slamming the council for "wrongly singling out Israel for criticism."

"When the council passes more than 70 resolutions against Israel, a country with a strong human rights record, and just seven resolutions against Iran, a country with an abysmal human rights record, you know something is seriously wrong," she wrote.

In a statement Monday on the 50th anniversary of the Six-Day War, UN Secretary-General Antonio Guterres called on Israelis and Palestinians to resume direct talks on a two-state solution.

Guterres said Israel still occupies the West Bank, east Jerusalem and Syria's Golan Heights and the "occupation has imposed a heavy humanitarian and development burden" on Palestinians.

"Among them are generation after generation of Palestinians who have been compelled to grow up and live in ever more crowded refugee camps, many in abject poverty, and with little or no prospect of a better life for their children," he added.

The Associated Press and Reuters contributed to this story.