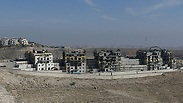 The West Bank settlement of Ma'ale Adumim
Photo: AFP
An Israeli panel approved plans on Tuesday for the first new Jewish settlement in the West Bank in two decades, Israeli media reports said, drawing Palestinian condemnation and defying repeated international appeals to avoid such measures. The plan includes 100 new housing units in the new West Bank settlement of Amichai, intended for the evacuated settlers of Amona.

If confirmed, the plans, which media said also envisage the construction of some 1,800 other settler homes in the West Bank, are likely to deliver a further serious blow to efforts to revive the moribund Israeli-Palestinian peace process.

At the order of the political echelon, the Supreme Planning Council of the Civil Administration has not convened since February because of Prime Minister Netanyahu's instructions shortly after the swearing-in of US President Donald Trump. Plans will also be placed in the settlements of Ma'aleh Adumim, Ma'ale Michmash, Neve Tzuf, Pnei Hever, Einav, Beit El and Kfar Tapuach.

A spokeswoman for the military-run Civil Administration in the West Bank of which the panel is a part declined to comment on the reports.

Peace Now, an Israeli anti-settlement group that monitors settlement activity in the West Bank, could not immediately confirm the reports, but said the panel was due to discuss further building plans for the territory on Wednesday.

The reported move follows an Israeli government decision in March to build the new settlement, known as Amichai. It will house some 300 settlers evicted in February from the former settlement of Amona.

Israel's Supreme Court ordered the removal of the Amona settlers after ruling that their homes had been built illegally on privately-owned Palestinian land. Prime Minister Benjamin Netanyahu pledged to re-house them at a new site in the West Bank.

The negotiations leading up to the evacuation was fraught with conflict, though eventually evacuation forces managed to finish clearing the settlement without serious injuries or loss of life.

According to the media reports, the panel approved plans to build 102 homes at the Amichai site for the Amona settlers. Plans for another 1,800 housing units in several existing settlements were also ratified, the reports said.

Palestinians, who seek to establish a state in the West Bank and Gaza Strip with east Jerusalem as its capital, reacted angrily to the reports.

"When President (Donald—ed) Trump visited the region, and didn't mention anything about the settlements, the Israeli government thought that it is a green light to continue expanding settlements against all international laws," said Wassel Abu Yussef, an official of the Palestine Liberation Organization.

Trump did not speak publicly about the settlements during a May 22 – 23 visit to Jerusalem and the West Bank, though he urged Israeli and Palestinian leaders to "make a deal" for peace that would entail mutual compromise and tough decisions.

About 400,000 settlers and 2.8 million Palestinians live in the West Bank.