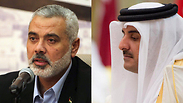 Haniyeh and Emir of Qatar
Photo: AFP, Reuters
Gaza's ruling Hamas said Tuesday it was shocked by Saudi Arabia's call on Qatar to stop supporting the Islamic militant group.

Saudi Arabia, along with the United Arab Emirates, Bahrain, Egypt and Mauritania have cut ties with Qatar and moved to isolate the Gulf nation, accusing it of harboring extremists. Qatar has denied the allegations.

Saudi Foreign Minister Adel al-Jubeir told reporters in Paris on Tuesday that Qatar must sever ties with Hamas and its historic parent, the pan-Arab Muslim Brotherhood.

"We have decided to take steps to make it clear that enough is enough," Jubeier told reporters in Paris. "No one wants to hurt Qatar, but it must decide whether it is going in one direction or the other, and I hope that the cost of the economic damage that will be caused to Qatar will convince it to go in the right direction and stop supporting organizations like the Muslim Brotherhood and Hamas."

Jubeir added that Qatar was actually undermining the Palestinian Authority and Egypt by supporting these organizations and the "hostile media"—apparently referring to the Al-Jazeera network.

Hamas said in a statement early Wednesday that al-Jubeir's remarks "constitute a shock for our Palestinian people and the Arab and Islamic nations."

Hamas official Mushir al-Masri also accused Saudi Arabia on Wednesday of siding with "American and Zionist calls to put Hamas on the terrorism list."

Hamas alleged that Israel "exploits these statements to carry out more violations against the Palestinian people."

Qatar has hosted Hamas leaders and has financed major projects in Gaza.