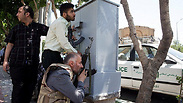 Iranian police forces outside Parliament following attack
Photo: Reuters
Iran's Guards says Saudi Arabia behind deadly attacks in Tehran
'The fact that Islamic State has claimed responsibility proves that they were involved in the brutal attack,' states Iranian media; top official in Iran's Revolutionary Guards promises: 'We will take revenge for today's attacks on terrorists, their affiliates and their supporters.'
Iran's Revolutionary Guards say Saudi Arabia was behind twin attacks in Tehran on Wednesday that killed at least 12 people and injured 43, a statement published by the Guards said.

"This terrorist attack happened only a week after the meeting between the US President (Donald Trump—ed) and the (Saudi) backward leaders who support terrorists. The fact that Islamic State (another name for ISIS) has claimed responsibility proves that they were involved in the brutal attack," said the statement, published by Iranian media.

The moment of explosion in Tehran

The attacks were the first claimed by ISIS, the hardline Sunni Muslim militant group, and released a video purporting to show gunmen inside the parliament building and one body, apparently dead, on the floor. The deputy head of Iran's Revolutionary Guards promised retaliation on ISIS and its allies.

"Let there be no doubt that we will take revenge for today's attacks in Tehran, on terrorists, their affiliates and their supporters," Brigadier General Hossein Salami was quoted as saying by state media.

ISIS releases footage from Iranian Parliament attack

The Revolutionary Guards also said in a statement published on state media that it "has proved in the past that it will take revenge for all innocent blood shed" in Iran.

Suicide bombers and gunmen attacked Iran's parliament and the Mausoleum of Ayatollah Khomeini in Tehran on Wednesday morning, killing at least 12 people in a twin assault at the heart of the Islamic Republic, Iranian officials and media said.

The raids took place at a particularly charged time after Iran's main regional rival Saudi Arabia and other Sunni powers cut ties with Qatar on Monday, accusing it of backing Tehran and militant groups.

The incident could exacerbate tensions in Iran between newly re-elected President Hassan Rouhani, a pragmatist, and his rivals among hardline clerics and the powerful Islamic Revolutionary Guard Corps (IRGC).

Attackers dressed as women burst through parliament's main entrance in central Tehran, deputy interior minister Mohammad Hossein Zolfaghari said, according to the semi-official Tasnim news agency.

One of them detonated a suicide vest in the parliament, he said. About five hours after the first reports, Iranian media said four people who had attacked parliament were dead and the incident was over.

"I was inside the parliament when shooting happened. Everyone was shocked and scared. I saw two men shooting randomly," said one journalist at the scene, who asked not to be named.

Soon after the assault on parliament, another bomber detonated a suicide vest near the shrine of the Republic's revered founder, Ayatollah Khomeini, a few kilometers south of the city, Zolfaghari said, according to Tasnim.

A second attacker was shot dead, he said. The shrine is a main destination for tourists and religious pilgrims.

"The terrorists had explosives strapped to them and suddenly entered the shrine and started to shoot around," said the shrine's overseeer, Mohammadali Ansari.

The Intelligence Ministry said security forces had arrested another "terrorist team" planning a third attack, without giving further details.

"I was shopping and suddenly heard shooting," said housewife Maryam Saghari, 36, who lives near parliament. "People started to run away from the area. I was very scared. I don't want to live in fear," she told Reuters by telephone.

Television footage showed police helicopters circling over the parliament building, with snipers on its rooftop. Tasnim praised the elite Revolutionary Guards for confronting the attackers.

The Fars news agency, which is close to the Guards, blamed Iran's arch foes, the United States and Saudi Arabia, for the attacks. It noted that they took place two weeks after Trump visited Riyadh and vowed to isolate Iran.

Iran is locked in a tussle with Saudi Arabia for regional influence which is being played out in the Yemen conflict as well as in Syria and Iraq.
Sunni insurgency
The raids on two of Iran's most highly-protected sites will jolt Rouhani, who positions himself as a reformer, and his political rivals among the hardline clerics and the Revolutionary Guards, who are responsible for national security.
In an appeal for unity, Rouhani's chief of staff, Hamid Aboutalebi, took to Twitter to praise the security services.
"If this attacks had happened in any other city in Europe or in the world, it would have left many casualties. Applause to the power and firmness of our revolutionary guards, Basij, police and security forces," he wrote.
Two senior government officials, who asked not to be named, said the blasts might prompt a blame game and exacerbate political in-fighting.
"They (hardliners) are very angry and will use every opportunity to grow in strength to isolate Rouhani," said one of the officials.
The other said the attacks, and speculation over who backed them, would push Iran toward "a harsher regional policy".
The Intelligence Ministry called on people to be vigilant and report any suspicious movement.
"Some cowardly terrorists infiltrated one of the buildings of parliament. They were confronted. It was not a major issue. Our security forces have taken necessary steps," parliament speaker Ali Larijani said in a session broadcast live by state TV.
Attacks are rare in Tehran and other major cities though two Sunni militant groups, Jaish al-Adl and Jundallah, have been waging a deadly insurgency, mostly in more remote areas, for almost a decade.
The world reacts to twin Tehran attacks
German Foreign Minister Sigmar Gabriel has condemned the attacks in Tehran, saying "once against unscrupulous criminals have dragged many innocent people to their death."
Gabriel said in a statement Wednesday that "where terror knows no borders, sympathy and humanity must have no barriers." He added that Germany "grieves with the people in Iran" and expressed hope that those injured would fully recover soon.
Germany is one of the six world powers that were part of the nuclear deal with Iran.
Pakistan has condemned twin attacks on Iran's parliament and a shrine to its revolutionary leader. The country's Foreign Office said Islamabad stands in solidarity with the people of Iran after Wednesday's attacks, which killed at least 12 people and were claimed by ISIS.
Pakistan shares a porous border with Iran, and the two sides agreed to boost security last month after gunmen killed 10 Iranian border guards.
Syria has condemned the "terrorist attacks" that targeted the Iranian parliament and the mausoleum of revolutionary leader Ayatollah Ruhollah Khomeini. The Syrian Foreign Ministry says Wednesday's attacks were backed by various governments, without specifying.
Syria routinely claims, without evidence, is backed by Western and other powers that want to remove President Bashar Assad from power.
Iran has been a key backer of Syrian President Bashar Assad throughout Syria's six-year-long civil war. It has shored up the government with arms and energy transfers and sent elite fighters, top military advisers, and thousands of militiamen to bolster Assad's forces.
Iran and Syria both cast the conflict as a struggle against Sunni Islamist terrorism. Their opponents instead blame the two governments for casting the conflict in starkly sectarian terms.
Russian President Vladimir Putin has offered his condolences after twin attacks on Iran's parliament and a shrine to its revolutionary leader, vowing aid in the fight against international terrorism.
In a message released by the Kremlin after Wednesday's attacks, Putin said Russia "resolutely condemns" the violence. Putin added that the attacks underscore the need for deeper international cooperation to fight terrorism and confirmed Moscow's willingness to aid Iran.
ISIS breaking ground in Iran
ISIS's taking responsibiltiy marks the first time it has done for an assault in Iran. The Sunni extremists are battling Iranian and Russian-backed forces in Syria and Iraq.

Iran's restive Sistan and Baluchestan province, in the southeast on the borders with Pakistan and Afghanistan, is home to the Balouch minority and has long been a hotbed of Sunni insurgents fighting the Shi'ite-led Islamic Republic.

Last year Iranian authorities said they had foiled a plot by Sunni militants to bomb targets in Tehran and other cities during the Muslim holy month of Ramadan.

Iranian Foreign Minister Mohammad Javad Zarif, who is visiting Turkey to discuss the Qatar crisis, told reporters that the attacks will "strengthen resolve of the Iranian nation against terrorism".

ISIS has lambasted "heretic" Shi'ite Iran for helping the Syrian and Iraqi governments battle ISIS, which considers Shi'ites to be infidels.

The video released by ISIS's news agency Amaq included an audio track of a man saying: "Oh God, thank you," as gunshots are heard. The man then adds, "Do you think we will leave? No! We will remain, God willing."