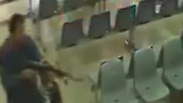 Five of the terrorists who carried out the twin terror attacks in Tehran on Wednesday fought for ISIS while all of them were Iranian nationals, the Iranian Ministry of Intelligence (MOI) said Thursday.

The MOI released photos of the bodies of the terrorists after they had been killed by local security forces.

While the names of the terrorists have not yet been released, officials said the men had been linked to Wahhabiya—the conservative, Sunni Islamist movement practiced in Saudi Arabia.

Terrorists in the Iranian parliament

According to the MOI, the terrorists were Iranian citizens who left the country to fight for ISIS in Mosul, Iraq and Raqqa, Syria—the two ISIS strongholds in the region.

Last August, the men returned to Iran on the orders of ISIS leader Abu Bakr al-Baghdadi to perpetrate attacks.

While officials have not yet commented on how the men succeeded in avoiding authorities, MOI officials acknowledged that a woman was detained in connection with the attack and is suspected of helping shelter the men and being involved in the planning of the attacks.

In light of the attacks in the heart of Iran, security in Tehran has been increased and residents of the city reported police on motorcycles are on nearly every street corner.

The reports seem to be in line with statements made by Iranian Deputy Interior Minister Hossein Zolfaghari, who announced on state TV that "law enforcement activities will increase" and "we are focused on intelligence gathering."

While the attack shocked many Iranians who aren't used to such incidents, it seems to be a natural outgrowth of the fact that Iran is deeply involved in the Syrian civil war in support of Syrian President Bashar Assad. That support, and support for Shiite militias in Iraq, appears to have spilled into Iranian soil.