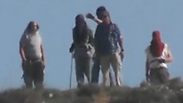 Masked Jews in Yitzhar throwing stones
Photo: Yesh Din
Two Jews convicted of incitement to violence against Arabs
The two senior activists from Yitzhar are convicted after confessing; the website of their organization, 'Jewish Voice,' included calls to 'break open heads' and 'throw Molotov cocktails'; one of them will serve a half-year of community service, and the court has yet to decide on the other's sentence.
Avraham Binyamin, 32, and Yehoshua Hess, 44, two senior activists from Yitzhar in the Jewish Voice group, were convicted on Thursday of numerous offenses of incitement to violence and racism.

The two were convicted at the Petah Tikva Magistrates' Court. The indictment had been approved by the attorney general, as required by law for the relevant offenses, due to the potential freedom of expression consequences.

The court found that in their various publications, the defendants systematically included content relating to incitement to violence. Among other things, the two posted praise, about for acts of physical violence against Arabs.

In addition, the publications included content related to incitement to racism, such as statements that all Arabs are "murderers," "violent," "savages," "terrorists," "abusers," and "cruel." They also published supportive and sympathetic statements about harm to the bodies, property and freedom of Arabs wherever they may be.

Judge Eliana Danieli was presented with a plea agreement for Benjamin's sentence: a half-year of community service if found suitable, as well as a suspended sentence and a fine. There is no agreement for Hess's sentence, which will be decided in court.