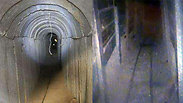 File photo of Hamas tunnel
Photo: IDF Spokesperson
Israeli soldiers opened fire at Palestinians who were throwing stones near the border fence in the Gaza Strip on Friday, killing one man and wounding four others, the Palestinian Health Ministry said.

The Islamic Jihad Palestinian militant group said the man killed was a member of their armed wing.

An Israeli military spokeswoman said hundreds of Palestinians had gathered along the fence and were throwing stones and burning tires.

Soldiers on the Israeli side of the border opened fire after their calls to the Palestinians and warning shots were ignored, she said.

Israel and the Islamist Hamas movement which rules Gaza have fought three wars since 2008, though the border has been largely quiet in recent months.

On Friday, the United Nations Relief and Works Agency, the main UN aid agency in Gaza, said it had discovered part of a tunnel running under two of its schools in a refugee camp in the enclave.

UNRWA said it had protested over the finding to Hamas, which in a 2014 war had used a network of cross-border tunnels to launch attacks inside Israel.

"UNRWA condemns the existence of such tunnels in the strongest possible terms. It is unacceptable that students and staff are placed at risk in such a way," a written statement said.

Hamas spokesman Fawzi Barhoum denied the tunnel belonged to his or any other Gaza militant group.

Israel pulled out of Gaza in 2005. The Palestinians want to establish an independent state in the enclave, the West Bank and east Jerusalem, territories that Israel captured in the 1967 Six-Day War.

US-brokered peace talks between Israel and the Palestinians collapsed in 2014.

At least 249 Palestinians and one Jordanian citizen have been killed since a wave of sporadic violence began in 2015 in Israel and the Palestinian Territories.

Israel says at least 167 of those killed were carrying out stabbings, shootings or car-ramming attacks. Others died during clashes and protests.

Thirty-seven Israelis, two American tourists and a British student have been killed in the violence, which has slowed in recent months but not stopped.