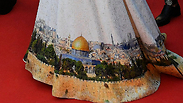 The conceptual Jerusalem dress worn by Culture and Sports Minister Miri Regev at the Cannes Film Festival last month is continuing to another station in Europe: the Jewish Museum in Berlin.

Regev appeared in the dress as a tribute to the 50th anniversary of the reunification of Jerusalem. The dress, designed by Israeli designer Arik Aviad Herman, features familiar elements of the Israeli capital such as the Golden Dome and the Western Wall. Photographs of the dress, which drew many reactions in Israel, reached different places in the world.

Regev received a request this month from the Jewish Museum in Berlin to lend them the dress so that they can display it in a large exhibition on Jerusalem. It is to open in December and will last until April 2019. "The exhibition will be dedicated to the holy city of Jews, Christians and Muslims," they wrote in their request.

"We'd love to display the dress you wore at the Cannes festival. Would you agree to lend it to us? The dress is not only unique, but is also a political statement. … The Jerusalem exhibition seeks to illustrate the history and complexity of the city and to present a wide range of emotions that this city raises."

Meir Suissa, Regev's advisor, said that the museum's request was met with a positive response and that the dress would be displayed at the exhibition.