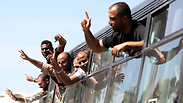 Palestinian prisoners
Photo: EPA
The Ministerial Committee for Legislation approved Sunday a bill proposal to deduct the funds the Palestinian Authority pays terrorists and their families from the monthly transfer of tax money Israel collects on behalf of the Palestinians.
The bill, proposed by MK Elazar Stern (Yesh Atid), is supported by the coalition, with Likud MKs David Bitan and Avi Dichter both being signatories to it.
Ahead of the vote, bereaved families issued a statement appealing to the chair of the Ministerial Committee for Legislation, Justice Minister Ayelet Shaked, and Prime Minister Benjamin Netanyahu, saying, "We, bereaved families, wounded IDF soldiers and victims of terror, turn to you from our very heart and soul to demand a change in the reality for terrorists; those who are responsible for the murder of our children, parents, spouses, relatives; those who are responsible for our physical and mental wounds.
"The State of Israel transfers significant funds each month to the Palestinian Authority. This is taxpayer money collected by the state and transferred to the PA. Each month, the PA funds terrorists with blood on their hands and supports terror proudly, transparently and publically. For this purpose, the PA has established a ministry to deal with the issue of transferring benefits to terrorists and their families."
The statement from bereaved families went on to say that not only do the funds constitute a fine "prize" for murdering Jews and Israelis, but many of the terrorists who are released go back to terrorism, making the money the financial basis for ongoing terrorism.
According to MK Stern, "The current reality is that the Palestinian Authority not only rewards the murder of Jews, but also encourages it. The more you murder, the more you get. That is how their reward system is built. This must be stopped not only because it is immoral, but also because it is an obstacle to peace on both sides.
"For the Palestinians, it incites them to murder and for us it is an obstacle to peace because how can we make peace with someone who encourages murder? I am convinced Prime Minister Benjamin Netanyahu and the committee headed by minister Shaked will support the legislation. Netanyahu has commented on the issue more than once and he understands that this absurdity cannot continue."