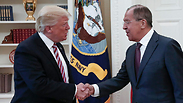 Trump and Lavrov
Photo: EPA
The classified intelligence US President Donald Trump revealed to Russia allegedly came from top Israeli cyber experts who discovered ISIS was developing explosives that would not be detected by airport security, according to a New York Times report on Monday.

The Times quotes US officials as saying that a few months ago, Israeli cyber operators were able to penetrate a small cell of extremist bomb makers in Syria who were working to make explosive that look like batteries for laptops, which would allow them to pass through X-ray machines unnoticed.

The intelligence, the American officials told the Times, was "so exquisite" it allowed the US to understand how these explosives would work and prompted the ban in March on large electronic devices in carry-on luggage on flights from eight Muslim countries to the US and UK.

Trump disclosed the highly classified information to Russia's Foreign Minister Sergei Lavrov and Russian Ambassador to the US Sergei Kislyak during a meeting at the White House in May.

While the White House denied the initial reports, but Trump confirmed the report on Twitter, writing "As President I wanted to share with Russia (at an openly scheduled W.H. meeting) which I have the absolute right to do, facts pertaining to terrorism and airline flight safety. Humanitarian reasons, plus I want Russia to greatly step up their fight against ISIS & terrorism."

Reports soon surfaced the classified information about an ISIS terror plot came from Israel, which even warned the Americans passing such sensitive information would cease if the information is passed on.