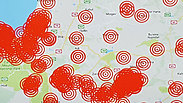 The new seismic montioring system
The system that will save lives: This is how the National Center for Earthquake Forecasting will work
The new system will monitor in real time the phenomena that characterize the state of the ground before an earthquake, and will sound off dozens of seconds before the earthquake; the hundreds of sensors installed in the designated areas will allow the system to slow down speeding trains to minimize damage.
In preparation of the national exercise to deal with earthquakes that will reach its peak on Tuesday, while running drills in public and educational institutions, the National Center for Earthquake Forecasting and Control has been revealed.

Using a special fence, which has hundreds of sensors along the Syro-African Depression and along the rift line between Beit She'an and Yigur, the system will receive a warning of tens of critical seconds before the earthquake hits.

Some of the sensors will be installed in strategic locations such as refineries and Dead Sea Works, and at some high risk centers, such as schools. The center, which will be operated by the Reshef Security Company of the Tigbur group, will also monitor the railway tracks in real time and will automatically allow speeding trains to slow down from a speed of 140 km / h to a low speed in order to significantly minimize the damage.

According to the horror scenario presented in the Knesset, a powerful earthquake in Israel could cause some 7,000 casualties and some 9,500 people trapped. It was also suggested that around 17,000 households might find themselves without shelter. As part of the preparations in recent years, a seismic fence along the rift lines has been constructed at fixed distances of 10 km apart.

According to Shuki Plaine, CEO of Reshef Security, the fence that was built in recent years will enable the center to increase the chances of saving lives.

"Schools are one of the biggest risk centers in an earthquake scenario because of the concentration of children in buildings that are old and prone to collapse," he said.

The system passed all the required tests and was able to warn in 100% of the cases, along with 0 false alarms. At any given moment, the system will detect the land fluctuations in the area and will be aware of the early waves that are characterized by earthquakes. When the waves are detected, the system will generate a voice alert.

Yuval Elani, a member of the team that operates the system, said: "The system will know how to warn, and so the people inside the buildings will know to step out to an open area according to the required procedure, even in buildings with more stable places, such as stairwells or elevators. This system can save lives in the event of an earthquake."