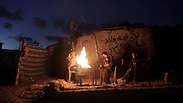 Residents of the Gazan city of Khan Unis during a power outtage
Photo: AP
Hamas warns cutting electricity to Gaza would be 'catastrophic'
Palestinian Pres. Abbas states his government will no longer pay for Gaza's electricity, forcing Israel to choose between siding with Hamas or risking a humanitarian crisis; Gaza's 2 million residents are already only receiving three to four hours a day.
Gaza's militant Hamas rulers warned of renewed violence Monday if Israel acquiesces to Palestinian President Mahmoud Abbas' wishes and reduces its electricity supply to the isolated territory.

Gaza's 2 million residents already get by with only four hours of electricity a day. In an effort to push his Hamas rivals out of power, Abbas says his West Bank government will stop paying Israel to provide electricity.

Protests in Gaza over electricity supply


That has put Israel in the tough spot of having to choose between siding with Hamas in the internal Palestinian struggle or risking a humanitarian crisis in the impoverished coastal strip.

An Israeli official confirmed that Israel is preparing to reduce the amount of power it supplies to Gaza, at the request of the Palestinian Authority. The official estimated that the reduction would limit power in Gaza to three hours a day.

The official said that Israel was searching for international donors to make up the difference, but that Israel would not itself pay for Gaza's power. It was not clear when the reductions would take effect. The official was not authorized to discuss the matter on the record and spoke on condition of anonymity.

"This Israeli decision is dangerous and catastrophic," said Hamas spokesman Abdulatif al-Qanou. "This virtually speeds up the deterioration and explosion of the situation in the Gaza Strip."

After repeated failed reconciliation attempts, Abbas has tried to squeeze Hamas financially in recent months, hoping to force it to cede control of Gaza, which the Islamic militant group has ruled for the last decade. He slashed salaries of his employees there, stopped payments for ex-prisoners and reinstated taxes on the power plant's fuel.

Most recently, he asked Israel to reduce Gaza electricity by 40 percent. The Israeli decision appears to be seeking a compromise.

"Let's not forget, this is Abu Mazen's decision," Israel's Public Security Minister Gilad Erdan told Army Radio Monday, referring to Abbas by his nickname. "Should Israeli citizens pay the electric bill of the residents of Gaza? Of course that doesn't make sense."

Gazans have been trying to cope with the lengthy outages. The poor have been relying on battery-operated lights, the middle class on communal generators and the few wealthy families have turned to solar energy.

But authorities warn of an impending crisis in health care and the environment. Each day, 120,000 cubic meter of untreated sewage are discharged into the sea.

The Gaza electricity distribution company stated it has not yet been informed of the Israeli decision to slash electricity, but warned of "serious deterioration" if the cuts went into effect.

"We barely provide four hours of electricity in Gaza, and in some neighborhoods they get three," said Mohammed Thabet, a spokesman for the company. "We can't predict how many hours people can get if the electricity is reduced."

Gisha, an advocacy group pushing for increased movement of people and goods across Gaza's borders, sent a letter to Defense Minister Avigdor Lieberman, warning of a severe crisis if the cuts went through. It said reducing the supply to Gaza was a "red line that must not be crossed."