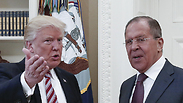 US President Trump with Russian Foreign Minister Lavrov at the White House, last month
Photo: MCT
Trump leak an intelligence catastrophe
Analysis: If there is even a grain of truth in the New York Times report that the classified information Trump disclosed to the Russians came from an Israeli cyber attack on ISIS, it is likely to cause serious damage to intelligence abilities that were acquired with a lot of hard work and at great risk.
If what the New York Times reported Monday is true—US President Donald Trump disclosed to the Russians that Israel had penetrated the Islamic State through a cyber attack and found out about the plan to bring down planes using sophisticated bombs—this is an intelligence catastrophe. It's neither a mishap nor a passing crisis involving the loss of information, but an across-the-board collapse of intelligence abilities that were acquired with a lot of hard work and at great risk.

According to the American newspaper, the president told Russian Foreign Minister Sergey Lavrov during their meeting at the White House last month that about half a year ago, Israeli cyber experts (he attributed the information to "an ally in the Middle East") had managed to penetrate a cell of bombmakers in Syria who were working on innovative explosives that could fool airport X-ray machines by looking exactly like batteries for laptop computers. The information led to a ban on large electronic devices in carry-on luggage on flights from Muslim countries to the United States.

Ever since the revelation that Trump had shared information with Lavrov about an Israeli intelligence source in ISIS, the Washington Post and the New York Times have been competing who will shame the president more, while exposing Israel's secrets in a bid to intensify his stupidity. At first, they talked about an agent Israel had recruited in Syria. That was enough to cause serious damage, as ISIS likely closed ranks and made it difficult to keep collecting information. Even if this agent managed to get out, regardless of whether he actually operated there or not, this report puts a lid on a rare source of information.

The New York Times leak, that the sensitive information was a result of a cyber attack, could create a different kind of intelligence-related damage and to a much larger extent. ISIS knows there is not a single intelligence agency in the world that isn't trying to infiltrate it, which is why it has likely ordered its members to use covert communication techniques. They avoid using computerized communication, and if they do—it's encrypted. According to past reports, the organization contacts its members through PlayStation or Xbox games.

Penetrating ISIS, even by hacking into its computers, often involves mortal danger. Each penetration requires classic intelligence work, which includes setting goals, studying the system and locating its weak spots, and developing functions to hide the trojan horse that is inserted for the purpose of collecting secret intelligence.

But then the New York Times comes along and informs ISIS it has been subject to an Israeli cyber attack. Now, all the organization's members have to do is to try to expose the system that penetrated their computers. And they are not alone: Countries that are interested in Israel's abilities will also dig into ISIS' computers to seize that virus/trojan/worm or God knows what. As soon as the cyber "tool" is found, it is very likely that the weak spot that allowed it in will be exposed as well. And that weak spot—which is most probably present in the computerized systems of other countries and organizations hostile to Israel—will be blocked. As a result, the attacker—who invested years in developing the tool and inserting it into different places—will see his entire enterprise crumble.

An intelligence organization inserting a malicious software into enemy computers disguises its activity by using servers around the world. This exposure, therefore, makes it easier for any intelligence service that has figured out the cyber "tool" to access the involved computers. And even worse, if the attacker is unaware he has been exposed, he can be loaded with false information and his logarithm might be used to attack other countries.

There are huge advantages to waging a cyber war over conventional intelligence operations. It does, however, involve risks and possible long-term damages for the attacker. If there is even a grain of truth in the recent reports, it means someone is waging their war on Trump at Israel's expense, intentionally causing serious damage to America's ally—verging on treason.

Tzipi Shmilovich contributed to this article.