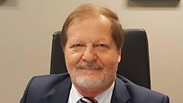 Israel returns ambassador to New Zealand, ending diplomatic rift
Israel returns its ambassador to Wellington after recalling him as a result of New Zealand sponsoring UN Security Council Resolution 2334 condemning Israel for settlement construction; New Zealand Prime Minister: 'I regret the damage done to Israel-New Zealand relations as a result of New Zealand proposing Resolution 2334 at the Security Council.'
Israel said on Tuesday its ambassador to New Zealand will return to his post, ending a six-month rift in relations over a United Nations resolution against Israeli settlements on territory which Palestinians seek for a state.

Israel recalled the ambassador in December after New Zealand, Malaysia, Venezuela and Senegal sponsored a UN Security Council resolution demanding an end to Israeli settlement activity .

New Zealand Prime Minister Bill English sent a letter to Israeli Prime Minister Benjamin Netanyahu after the two leaders spoke on the phone earlier this week, Israeli Foreign Ministry spokeswoman Michal Maayan said in a statement.

"I regret the damage done to Israel-New Zealand relations as a result of New Zealand proposing Resolution 2334 at the Security Council," English wrote, according to the Foreign Ministry statement.

The UN resolution passed in the 15-member Security Council because the United States, under the administration of former President Barack Obama, did not wield its veto power and instead abstained, breaking with its long-standing tradition of diplomatically shielding Israel at the international body.

Continued settlement building on land Israel captured in the 1967 Six Day War and which Palestinians hope will eventually form part of an independent state has drawn criticism from the United Nations and most of the international community. Palestinians cite it as a major obstacle in now-stalled peace talks.

On June 4 Israel said it was returning its ambassador to Senegal, after recalling him over the UN Security Council resolution. Israel does not have diplomatic ties with Malaysia and Venezuela.