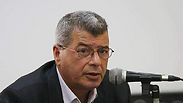 Lieberman, PA official deny halt of payments to terrorists' families
Def. Min. Lieberman refutes claims that PA will stop payments, saying, 'As of this moment I have seen no cessation or intention to stop paying terrorists' families'; Issa Karaka, the head of Prisoner Affairs at the PA, calls US demand 'a declaration of war against Abbas and PA.'
The head of Prisoner Affairs at the Palestinian Authority, Issa Karaka, denied on Wednesday a claim by US Secretary of State Rex Tillerson that the PA has stopped paying salaries to families of terrorists.

In a hearing at the Senate Foreign Affairs Committee on Tuesday, Tillerson said both he and Trump had directly discussed this with Palestinian President Mahmoud Abbas and that he had received a report saying the Palestinians "have changed that policy and their intent is to cease the payments to the families of those who have committed murder or violence against others."

Karaka dubbed such a demand as "a declaration of war" against Abbas and "an invitation for the dismantlement of the Palestinian Authority."

He claimed it "would not lead to stability and would not serve a peace process in the region."

Karaka explained this is an issue that touches almost every Palestinian family in the West Bank and the Gaza Strip. "The Palestinian society is made up entirely of families of prisoners and shahids, and they are all victims because of the Israeli occupation," he said. "This demand to stop payments for prisoners' families is no small matter, but something very big with social ramifications."

Karaka said noted that even if Abbas wanted to halt payments to prisoners, he would not be able to withstand the public outcry such a move would cause.

"No one in the Palestinian Authority could make such a move," he asserted. "It would be very difficult for the Palestinian Authority to stop the humanitarian aid to the families of prisoners and shahids."

Karaka confirmed the PA did stop payments to over 200 released Hamas prisoners, some of whom were freed as part of the 2011 Shalit prisoner exchange deal, but noted this "had nothing to do with Tillerson's demand. It was done due to a dispute between the PA and Hamas."

Defense Minister Avigdor Lieberman said he'd seen no signs the Palestinian Authority had changed direction.

"We follow this closely," Lieberman told Israel's public radio on Wednesday. "As of this moment I have seen no cessation and no intention to stop paying the terrorists' families."

An unnamed Israeli government official also rejected Tillerson's claim, saying "The PA continues paying terrorists' families and continues praising, inciting and encouraging terrorism using those payments."

Meanwhile, a bill proposal passed in preliminary reading in the Knesset on Wednesday calling to deduct the sums the PA pays terrorists from the tax money Israel collects from the Palestinians. Forty-eight MKs voted in favor and 13 opposed.

"When the Palestinian Authority allocates funds, by law, to terrorists and their families, it promotes a policy of murder of Israelis. Budgeting terrorism is a clear political move, which is not in line with the peace process," said MK Elazar Stern (Yesh Atid), who proposed the legislation.