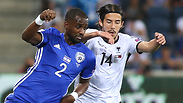 Israel and Albania soccer teams face off
Photo: Oz Mualem
Kosovo prosecutors said on Wednesday they had charged nine Kosovar men with planning attacks at a World Cup soccer match in Albania against the visiting Israel team and its fans last November.

Last year, Kosovar police arrested 19 people - including the nine charged on Wednesday - on suspicion that they had links with ISIS (also known as the Islamic State) and were planning attacks in Kosovo and neighbouring Albania.

At the time, fearing such attacks, Albanian authorities moved the Nov. 12 qualifier to a venue near the capital Tirana from a stadium in the northern town of Shkoder.

The state prosecutor said some of the nine men charged were in contact with Lavdrim Muhaxheri, a prominent ISIS member and the self-declared "commander of Albanians in Syria and Iraq" from whom they received orders to attack. Police and family members told Reuters last week that Muhaxheri has been killed in Syria.

The group was also planning to launch attacks inside Kosovo against local and international institutions and buy weapons with money received from Muhaxheri, the prosecutor said.

NATO has around 4,500 soldiers in Kosovo helping to keep a fragile peace. The European Union and the United Nations also have security and diplomatic missions in Kosovo.

The prosecution said the defendants took orders from Muhaxheri and planned to attack and destabilise "the countries in the Balkans and then create their territory of the Islamic State".

One of the defendants had kept in his basement 283 grams of self-made triacetone triperoxide (TATP) explosives. The same explosive was used in attacks in Paris and Brussels and was found in a series of foiled bombings in Europe since 2007.

Another defendant had produced half a kilo of explosives at his house from ammonium nitrate and fuel oil (ANFO), it said.

Kosovo, with a majority ethnic Albanian Muslim population, has had no militant attacks on its home turf, but at least 200 people have been detained or investigated over offences related to ISIS.

A total of 300 Kosovo nationals have gone to Syria to fight for ISIS and more than 50 have been killed there.

International and local security agencies in Kosovo, including at the NATO mission and the EU police mission, are worried that many of those returning home from combat zones could pose a security threat.

In 2015, Kosovo adopted a law introducing jail sentences of up to 15 years for anyone found guilty of fighting in wars abroad.