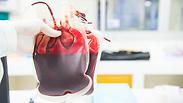 File photo
Photo: Shutterstock
As of June 1, the MDA Blood Services Center will allow blood donations from both men who have not had gay sex in over a year and Ethiopians, after years during which these groups were barred from donating. This change will be implemented thanks to advanced equipment that enables rapid viral tests.

To date, MDA blood services have forbidden Ethiopian Jews and gay men to donate blood due to fear of contracting HIV. This long-standing decision has aroused waves of protest from the Ethiopian community.

Three years ago, Ynet journalist Moran Azulay published a story about former Knesset Member Pnina Tamano-Shata, who wanted to donate blood at the Knesset, like her colleagues, but was informed that because she was born in Ethiopia, she was not allowed to donate blood.

Former Health Minister Yael German decided to set up a committee to determine the criteria for receiving blood donations. Many western countries, including the United States, Canada and Australia, allow gay men to donate blood, provided they have not had sex a year before the donation.

This change in global policy was due to the improvement in the laboratory tests, which enabled the rapid examination of the blood samples to detect traces of the HIV virus. The experts committee of the Health Ministry said in its recommendations that the new test will reduce the risk of blood donations in the entire population, including those at high risk of contracting HIV.

As mentioned, about six months ago, the Ministry of Health announced for the first time the change in the policy of blood donations, and determined that immigrants born in Ethiopia could donate blood much like Israelis of Ethiopian origin born in Israel, provided they did not visit Ethiopia a year before the donation.

Similarly, homosexuals can now donate blood, provided that they report they have not had sex with other men a year prior to the donation.

The newly purchased device enables detection of viral infections: HIV 1 and 2, HTLV type 1 and 2, hepatitis B, hepatitis C and syphilis. In addition, the test also detects the West Nile virus that can cause severe diseases in populations at risk such as the ill, the elderly, infants and pregnant women.

Another innovation that the National Blood Bank has decided upon is to allow blood donations without age restrictions, contrary to the policy that has been in force thus far, restricting blood donations up to the age of 65. The donation of blood by members of the third age group will be possible after the approval of the family doctor indicating that the donation does not endanger their health and the indication of diseases and medications.

"The prohibition on blood donations was not only from Ethiopian immigrants," Dr. Asher Moser, deputy director of MDA Blood Services, told Ynet. "The restriction referred to all those who were in countries with a high prevalence of HIV, like most African countries and regions in East Asia. From now on, we will be able to test the blood units at a high level of precision with the new equipment, and we are happy that as many Israelis as possible will be able to donate blood."

Former MK Pnina Tamano-Shata: "The State of Israel discriminated against the Ethiopian immigrants for three decades, looking at us as a walking affliction to Israeli society, labeling us as sick from a racist point of view. While taking blood from other much more infected countries, our blood was thrown away. "

"This is … a victory and for that, I'm glad. For me, this has been a struggle over my very existence and my ability to exist in peace in Israeli society. I have made a vow that there will not be a situation in which the State of Israel thinks that it may continue to discriminate against us for so many years … it is an important message for the younger generation that justice and truth must not be sacrificed."