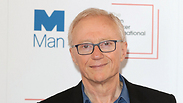 David Grossman
Photo: Getty Images
Israeli author David Grossman wins Man Booker International Prize
Grossman is the first Israeli author to be awarded the prestigious award, beating out five other finalists, including fellow Israeli author Amos Oz; a £50,000 prize will be split between Grossman and his translator, Jessica Cohen, who announced she would donate the prize money to B'Tselem.
Israeli author David Grossman has won the Man Booker International Prize for his novel "A Horse Walks into a Bar," it was announced Wednesday night.

Grossman, whose novel is about a failing standup comic and his final performance, beat out five other finalists, including fellow Israeli author Amos Oz, who was nominated for his book "Judas."

The other contenders were Argentine novelist Samanta Schweblin and her debut novel "Fever Dream," French writer Mathias Enard's "Compass," Norwegian author Roy Jacobsen's family epic "The Unseen," and Danish novelist Dorthe Nors' "Mirror, Shoulder, Signal."

The award comes with a 50,000 GBP ($64,000) prize, which is split evenly between Grossman and translator Jessica Cohen.

Grossman's acceptance speech

"Thank you all. I will cherish this award and this evening," Grossman said after receiving the prize at a ceremony in central London, expressing his joy that not one but two Israeli writers made the shortlist.

"Amos is my friend and my teacher and it's very meaningful to be on the same list as him," he said.

"It's a great sign of honor to our language, which is a very insular language," he said. "And yet, since it was a dormant language for something like 1,800 years, it is such a phenomenon that in the last 120 years the Hebrew language has been revitalized, awakened from its long sleep and became a language of every day."

Grossman added that with the revitalization of Hebrew, writers worked "so hard to bring this language to life and to start to tell stories in Hebrew. Today we have such a flourishing and really wonderful literature. There are so many wonderful wonderful writers in Israel that deserve to be translated and to be read."

Judges explain why Grossman won

"I thank first of all my wonderful, devoted, translator, Jessica Cohen," the 63-year-old author went on to say.

The translator, Cohen, was born in England, raised in Israel and lives in Denver. She has translated Grossman as well as Etgar Keret, Rutu Modan, Dorit Rabinyan and others.

Cohen decided to donate the prize money to the left-wing B'Tselem organization.

"I will donate the prize money to B'Tselem, which for almost 13 years has been working on exposing human rights violations committed by Israel in the occupied territories," she said. "It is not easy to tell a truth that is not flattering and uncomfortable, but it is essential. Not only in literature but in life."

Nick Barley, chair of the judging panel, praised Grossman. "David Grossman has attempted an ambitious high-wire act of a novel, and he's pulled it off spectacularly," he said.

"'A Horse Walks into a Bar' shines a spotlight on the effects of grief, without any hint of sentimentality. The central character is challenging and flawed, but completely compelling. We were bowled over by Grossman's willingness to take emotional as well as stylistic risks: every sentence counts, every word matters in this supreme example of the writer's craft," Barley added.

AFP and AP contributed to this story.