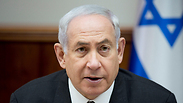 Prime Minister Netanyahu
Photo: Reuters
The investigation into suspicions Prime Minister Benjamin Netanyahu and his family received illicit gifts, the so-called Case 1000, is not expected to end before the fall, Attorney General Avichai Mandelblit said in a meeting on the case earlier this week.

The meeting was also attended by State Attorney Shai Nitzan, the head of the Israel Police's Investigations and Intelligence Division, Meni Yitzhaki, and the prosecutors working the case.

Prime Minister Netanyahu will be questioned several more times in the coming months to allow police investigators to confront him with all of the suspicions against him and get his response to the allegations.

Senior sources involved in the investigation said it will unequivocally present the large-scale delivery of gifts given to the prime minister and his wife by billionaire Arnon Milchan and others, some at the request of the couple. However, law enforcement officials clarified this would not be enough to determine whether to indict.

Investigators are currently focusing on trying to understand the relationship between Netanyahu and Milchan. The objective, according to the sources, is to find evidence to establish what is referred to as the "heart of the case": whether the gifts were given to Netanyahu because he is a public figure, and whether Milchan received or expected to receive anything in return.

Netanyahu has claimed his relationship with Milchan is a personal friendship that has lasted for many years. An indictment would only be filed if investigators could find evidence to disprove this claim and prove a conflict of interest.

Liat Ben Ari of the Tel Aviv District Attorney's Office said last week that "bribery cases are not simple. To reach one conclusion or another, thousands of hours of work are required, as well as piles of evidence and witnesses, documents and judicial inquiries. In almost all of the big cases we need witnesses from abroad, whom we can't reach with cooperation from the authorities."

The police and the State Attorney's Office have not yet given up on collecting the testimony of Australian billionaire James Packer, despite the difficulties they've encountered so far. Investigators are now working to convince Packer to cooperate, as his testimony is very significant to the case.

While Attorney General Mandelblit is aware of the criticism over the slow pace of the investigation, Justice Ministry officials said no external pressure could affect the attorney general's decision-making process.

Mandelblit's close associates said Wednesday, "On the one hand, he's being called to exhaust all lines of inquiry, while on the other hand he's being criticized for the prolonged process. There's nothing to be done about it, investigations like that require time, and no stone will be left unturned in the search for the truth."