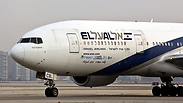 Heathrow Airport on Thursday named Israel's flag carrier El Al as the airline causing the most air and noise pollution over the British capital.

The London airport, which is the busiest in Europe, released the Fly Quiet and Clean League Table, a list it plans to release every quarter in an effort to raise awareness among airlines and get them to use more efficient planes, in addition to the fines carriers suffer for violating regulations.

Heathrow rated the 50 largest airlines that fly in and out of the airport in seven categories, including noise, nitrogen oxides emissions, whether they were late or early and efficient landing approaches.

Among the cleanest and quietest airlines were British Airways short haul, Irish airline Aer Lingus and Etihad Airways from the UAE.

El Al came in last place in five of the seven categories, followed by Kuwait Airways, Middle East Airlines, Pakistan International Airlines, Omar Air and Jet Airways.

"Airlines from the Middle East were by far the worst offenders," an article in the Times determined.

According to the data released by Heathrow Airport, almost half of the large airlines don't impose tough restrictions on night flights, noise or emissions.

In addition, 24 out of 50 airlines failed in at least one of the categories designed to cut noise pollution and improve air quality.

El Al said in response that it inaugurated its new 787 Dreamliner aircraft this week, which will go into use beginning in August. The Dreamliner is less noisy and more environmentally friendly.

"These aircraft, which will gradually enter service until 2020, will replace by early 2019 the 747-400 fleet. The Dreamliner aircraft will join the new 737-900 aircraft the company has purchased, which are already operating on European routes, making the El Al plane fleet younger and less polluting."