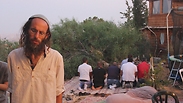 Rabbi Yossi Froman
Photo: Rabbi Mordechai Vardi/TPS
An early June evening, Gush Etzion, south of Jerusalem. Approximately 60 people sit on a garden patio under an awning, waiting for the sun to disappear over the western mountains before breaking the day-long Ramadan fast with dates and water, to be followed by a larger meal of chicken and rice.

In-and-of-itself, the scene is unremarkable. The nightly break-fast meal, known in Arabic as iftar, is a central feature of the Muslim holy month, a time for families and friends to gather together, pray and share quality time, often outside in the temperate evening climate.

But this gathering is not quite your traditional iftar, in at least one significant detail: Approximately half the attendees are Israeli residents of the Gush Etzion settlement bloc communities of Efrat, Alon Shvut, Kfar Etzion, Bat Ayin, Tekoa and others, who have come to celebrate the end of the fast, talk about co-existence and build relationships.

The evening, hosted by the Shorashim/Judur organization, a local NGO that calls itself a "grassroots movement of understanding, nonviolence, and transformation among Israelis and Palestinians," is second of four break-fasts the organization will be hosting in June and just one of dozens of interfaith programs throughout the month.

For established Israeli organizations such as Givat Haviva, The Abraham Fund Initiatives and newer groups like the Abrahamic Reunion, iftar has become an opportunity for Israeli Jews and Arabs to come together on neutral ground for a religious/cultural experience that participants say transcend politics. For settlers and Palestinians , the issues are obviously more charged.

"I came here tonight to deal with a type of emotional sickness that I think we all—Israelis and Palestinians—have," said Rabbi Hanan Schlezinger, a New York native who has lived in Alon Shvut for 30 years. "We are both traumatized by fear, suspicion, misunderstanding.

"I would only have the chutzpah to speak for myself and perhaps for other Israelis, but in our communities Palestinians are essentially invisible. When they aren't working in construction building our houses, we don't see them. Iftar is an opportunity to share a meal together, to relate to one-another as individuals with similarities. That experience has helped open my eyes and my heart to people who live less than a five-minute drive from my house," Schlezinger said.

Virtually all of the Palestinians at the gathering asked not to be identified, for fear of retaliation by Palestinian Authority officials or Hamas operatives for "normalizing" relations with settlers.

Notably, however, the fear of retribution did not dissuade them from breaking bread with the Israelis, just 200 meters from the Gush Etzion junction—a site where Israelis have been stabbed, shot and intentionally run over by Palestinian terrorists, and where Palestinians have to go through roadblocks and random security checks.

"Most Palestinians associate settlers with violence, roadblocks, IDF soldiers are constantly searching our houses and arresting people and more," said one Palestinian participant. "And then there are political pressures from the PA not to "normalize" relations with settlers.

"But it is absurd, when you think about it. So many Palestinians already talk to settlers – we build their houses, we clean them, we tend their gardens. So 'boycotting' them in social terms only means taking the humiliating side of that relationship, without seeing them as individuals who are deeply connected to this land, and to show them the same side of Palestinians. Iftar is a terrific opportunity for people to meet as equals," the person said.

In addition to the cultural aspects of iftar, for religiously minded Jews, the opportunity to eat together presents an opportunity to discuss spiritual similarities and differences between the two faiths. The Islamic themes of Ramadan – tauba (repentance), zakat (charity) and tarawih (penitential prayers) are parallel to the religious themes of Elul, the Hebrew month of repentance leading up to Rosh Hashana. In addition, Muslim and Orthodox Jews share many cultural norms that fly in the face of aspects of modern society.

"We had one person, an older Muslim man, who came to our our house for an iftar and he sees a pushka (tzedakah box) that we have on the wall. His face lit up and he asked me, 'Hey! is that for sadaqa?,'" using the Arabic word for charity, said Rabbi Lee Weissman, a member of the Breslov hasidic sect who lives in California and is the author of the Jihadi Jew blog.

"So we start to talk about sadaqa.. and the idea of giving a little everyday to make it a habit, and about giving before you pray. The conversation quickly became this soaring conversation about the nitty gritty of giving, and within a few minutes we had gone from being 'you people' to us: Just a couple of religious folks trying to figure out how to stay connected to God and each other in a confusing world," Weissman told TPS.

Article reprinted with permission from TPS.